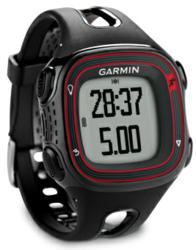 it is about sheer simplicity for anyone who runs, walks, hikes, Nordic walks or exercises on their own two feet outdoors - that's it in a nutshell
Bozeman, MT (PRWEB) August 29, 2012
The new Garmin Forerunner 10 is Garmin's least expensive and lightest GPS watch ever built according to the Heart Rate Watch Company blog. To see the full blog post simply visit Heart Rate Watch Company blog.
"This watch is ideal for the runner, walker, Nordic walker or person that wants pacing and distance data", says Rusty Squire, President of the Heart Rate Watch Company. He adds, "It is also ideal for someone who really doesn't want heart rate data or would like to avoid a chest strap and receive pacing data".
The Forerunner 10 will also create maps of routes and download all the data on pace and distance to Garmin Connect, so, while it is void of heart rate features, it is far from being a completely stripped down model. "This new Garmin even has Virtual Pacer which tells you exactly how you are doing relative to a target pace", says Squire.
WATCHES GONE WILD
The Garmin 10 is pretty straight forward in black for the guys but the women's version is far from sedate with a bright pink and lime green color. "Bright colors are making a comeback as though we were destined to repeat the 1970's somehow", says Squire. He chuckles, "Just don't make me wear bell bottoms".
WHEN IT IS AVAILABLE & COST
"Customers can advance order the Forerunner 10 from our website right now", says Squire. He adds, "As of yesterday Garmin was quoting dealers a ship date of September 14th". All three versions of the new watch retail for $129.99.
SKIP THE STRAP
For the chest strap averse who don't really care for heart rate and simply want pacing and distance data outdoors, along with post-exercise maps, then the Garmin Forerunner 10 is ideal.
Athletes that want a more serious watch for running or one that will do cycling will need to look at watches like the Garmin 610 and Garmin Forerunner 910XT. These watches are for more serious athletes who like to compete at a higher level. "That is not what the Garmin 10 is about, it is about sheer simplicity for anyone who runs, walks, hikes, Nordic walks or exercises on their own two feet outdoors - that's it in a nutshell".