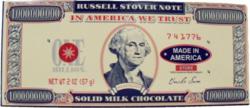 Elma, NY (PRWEB) August 31, 2012
With the election just around the corner and some serious answers to saving the economy, buying American-made is key. The Made In America Store has stepped up to bring 100% made in the USA products from all over the nation with one message; Create and save jobs by supporting American manufacturing. To thank those who support the all USA-made store by wearing their shirts, The Made In America Store team will reward them with a free Russell Stover Candy Bar!
The free Russell Stover 'Made In America Store' Candy Bar promotion starts when the store's 9/11 Tribute Concert Event begins, which is September 7th and 8th of 2012 and continues from there on forward!
Russell Stover teamed up with the Made In America Store back in 2010 and supplied the store with numerous chocolates, samplers and taffies. Since then, consumers have been coming from all over to get their USA made chocolates.
Looking to satisfy your sweet tooth? Click here to visit the Made In America Store which has the candy you're craving!
Recently, the Made In America Store has worked with Russell Stover to manufacture a store branded candy bar. The Made In America Store's branded Candy Bar features a mock $1,000,000,000.00 bill with George Washington's face.
The Made In America Store prides itself on selling 100% American made products and Russell Stover fits the ticket of quality. With Russell Stover's already a household name, the Made In America Store can offer chocolates and candy with the American made seal of approval.
The Made In America Store is also offering special interest groups a new alternative to fund raising. Any group interested in selling Russell Stover candy bars can contact the store and discuss a quantity desired to raise money for their cause. Individual groups can purchase 24 Russell Stover candy bars for $20.00.
Looking to purchase the 100% American-made, Russell Stover Candy Bar? Click Here to shop for the Made In America Store branded Candy Bar!
The Made In America Store, which is located at 900 Maple Road in Elma, New York, is committed to selling 100% American manufactured products. You can visit http://www.MadeInAmericaStore.com for more information or shop our catalog of over 3,500 products from over 300 vendors that are devoted to producing USA made products. All US military personnel, both active duty and veterans, receive a discount every day. Consumers can also keep up to date news articles, events, photos and contests with Facebook, Twitter, Google+, Pinterest and FourSquare!