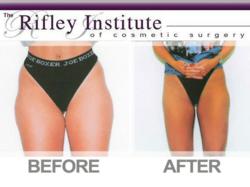 Dr. Rifley of Las Vegas Cosmetic Sugery Center Advises Americans to Stay Stateside for Tummy Tucks
Las Vegas, NV (PRWEB) August 29, 2012
Las Vegas liposuction surgeons are considered to be some of the most sought out plastic surgeons in the country for there experience and proven success. This may come as no surprise as Men's Health ranks Las Vegas in the "Top 10 Most Vain Cities", and expectations are high. From Las vegas escorts, entertainers, cocktail waitresses, business executives and house wives, Las Vegas is a demanding city when it comes to appearance. However, many women have be considering cheaper solutions abroad putting themselves at risk.
Dr. Bill Rifley, founder of the Rifley Institute for Las Vegas Cosmetic Surgery, says patients have several options to choose from that range from safe to dangerous and patients need to know possible side effects. The three most common forms of surgical body transformation are liposuction, tummy tuck, and body-lifting. While "liposuction" is considered the first option and the safest, "body-lifting" is the most complex and the most dangerous of all cosmetic surgeries. Half of people who undergo the procedure have some sort of a complication.
"Liposuction", also known as lipoplasty, liposculpture or simply lipo removes fat from many different sites on the human body. "Tummy tuck" or Abdominoplasty is a procedure used to make the abdomen more firm. The surgery involves the removal of excess skin and fat from the middle and lower abdomen in order to tighten the muscle and fascia of the abdominal wall. The lower "Body-lift" surgical procedure tightens loose, sagging skin in the buttocks, posterior thighs, hips, outer thighs, and anterior thighs. The lower body lift extends the tummy tuck incision completely around the lower torso.
Dr. Rifley has been the Chief of Plastic Surgeon of Two medical facilities in Las Vegas, and for a combined 20 years and has performed over 20,000+ surgeries. He says that while corrective surgery for botched breast implants can be relatively easy to resolve, complications from body-lifts and lap-band can quickly become life-threatening and expensive. The ethical and Legal complexities of medical tourism in outside countries may leave patients no recourse for financial damages. He recommends patients stay stateside for such procedures using a certified and reputable surgeon.
Rifley says that a consultation at his Las Vegas cosmetic surgery center is usually the first step to see what can be done with healthy eating habits combined with regular exercise. He says then then next step is to look at low risk procedures such as liposuction. Some authors argue that weight loss from liposuction is inconsistent at best and make light of those guaranteeing weight loss to liposuction clients. Then after the weight loss or liposuction procedure it can be determined if a tummy tuck or other options are necessary. Individuals with questions or concerns regarding Las Vegas plastic surgery procedures can reach Dr. Rifley at 1-702-242-4616 or visit http://www.RifleyInstitute.com