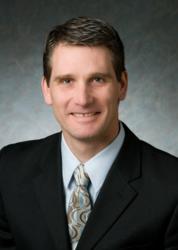 Recent projects include the new San Francisco 49er's Stadium, the expansion of the San Diego Airport, and the new Santa Barbara Airport Terminal.
Kansas City, MO (PRWEB) August 29, 2012
Two long-time members of the HNTB Architecture staff have been named to key leadership positions within the business unit of HNTB Corporation. Bane Gaiser, AIA, LEED, AP, has been named president of HNTB Architecture, and Christopher Migneron, AIA, has been named HNTB Architecture's Kansas City office leader.
Gaiser oversees the commitment of firm resources for architecture projects in the federal, civic, aviation, transportation, convention center, sports, education and program management markets. His expertise includes the development and execution of strategies for design-build, design-bid-build, construction manager at risk, and program management projects.
He has more than 20 years of architecture experience, with more than a dozen of them at HNTB, and he holds a Bachelor of Architecture from University of Kansas and Master of Science in advanced architectural design from Columbia University.
Chris Migneron, AIA, is HNTB Architecture's Kansas City office leader, responsible for the office's overall design, business and management results. He has more than 14 years of architectural experience encompassing various delivery methods, including design-build. His expertise includes federal, sports, commercial and residential projects. Prior to his role as office leader, Migneron served as HNTB assistant project director on the new National Security Center Campus in Kansas City, Mo. HNTB serves on the CenterPoint Zimmer design and construction team for the campus, which will include nearly 1.5 million square feet of manufacturing spaces, laboratories, office space and warehouses, and is designed to be LEED® Gold-Rated Green.
Migneron is a registered architect with a bachelor's degree in architecture from Syracuse University.
HNTB Architecture, which delivers specialized planning, design and program management services to the nation's top convention center facilities and collegiate sports and pro football venues in the country, was founded in Kansas City and is a long-time recognized industry leader. Recent projects include the new San Francisco 49er's Stadium, the expansion of the San Diego Airport, the renovation of California Memorial Stadium at the University of California, the design of New Jersey Turnpike Authority Traffic Management Center, and the new Santa Barbara Airport Terminal.
Signature design projects in the Greater Kansas City region have included Kansas City International Airport, every phase of the Bartle Hall Convention Center, Kansas Speedway and the original design of the Truman Sports Complex.
About HNTB
HNTB Corporation is an employee-owned infrastructure firm serving public and private owners and contractors. With nearly a century of service, HNTB understands the life cycle of infrastructure and solves clients' most complex technical, financial and operational challenges. Professionals nationwide deliver a full range of infrastructure-related services, including award-winning planning, design, program delivery and construction management. For more information, visit http://www.hntb.com.