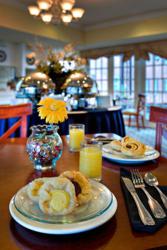 Charleston, SC (PRWEB) August 30, 2012
With the Carnival cruise line now departing from Port of Charleston, many resorts are looking to bring in visitors needing to stay a night or more before departure or after return. With discount vacation sites offering cruises with prices anywhere from $200 to $800 for a three to seven night cruise, there are plenty of opportunities for hotels to bring in business.
One hotel looking to take advantage of cruise vacationers is the King Charles Inn, a Best Western owned historical hotel located in downtown Charleston. They are currently offering a "Cruising Out of Charleston?" package that includes a 2 day/1 night stay, a Charleston inspired welcome gift basket, a breakfast buffet for 2, an evening reception, and complimentary parking.
The King Charles Inn has 91 rooms on three floors and also features amenities such as daily bar service, room service, complimentary coffee and tea, a world class fitness facility, dry cleaning, concierge services and more. Located in the heart of downtown Charleston, one block from King Street shopping, historic homes and the famous market horse-drawn carriages, the hotel is the ideal place to enjoy a day in the historic city before departing for your cruise.
Those planning on taking advantage of the cruise package that King Charles Inn is offering are encouraged to make reservations well ahead of time.