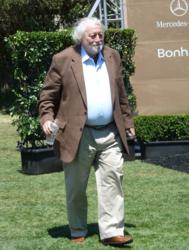 Monte Sereno, CA (PRWEB) August 30, 2012
Monte Sereno, California, 30 August 2012 - Iso was one of the featured marques, celebrating the 50th anniversary of Iso GT cars, at The Quail, A Motor Sport Gathering on August 17 in Carmel, California.
Piero Rivolta, the last president of Iso and the son of the founder Renzo Rivolta, was a featured guest and was interviewed on stage by Winston Goodfellow.
There were 27 Iso cars at this gathering and it is believed to be the largest gathering of Iso cars in North America and possibly the world since the company went out of business in the 1970s.
The Iso Marlboro Formula One race car was there as were fifteen Iso Grifos (including the prototype), six Iso Rivolta GTs, one Iso Lele, one Iso Fidia, one Iso Daytona Targa, one Iso Grifo A3/C and the Iso Rivolta Varedo concept car.
There were Iso cars from all over the United States and four were brought to this event from Germany. The Iso class winner was a recently completed fully restored Iso Grifo painted in a dark red with a silver top and tan leather interior.
These very rare Iso classic cars accounted for approximately 15% of the total cars at this prestigious classic car event.
Visit My Car Quest where you can read more about Iso Rivolta cars and other classic cars and see photos from this special event.
About My Car Quest
Mike Gulett is the publisher and writer of the popular classic car blog, My Car Quest, and he writes about classic cars, race cars, other cars that interest him and the people who made or drove those cars. He is also a car collector and writes from the perspective of a collector and an enthusiast.
Contact: Mike Gulett
Email: mike (at) mycarquest (dot) com
Mobile phone: 408-406-5439
Monte Sereno, California 95030 USA