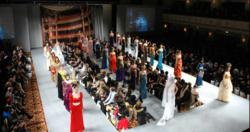 The collection is soft, elegant and vintage which makes it reminiscent of timeless beauties
New York (PRWEB) August 30, 2012
Indian American fashion designer, Parna Ghose of Pure Elegance, will showcase her Bridal Collection at New York Couture Fashion Week. The event will be held at 4:00 p.m. on Sunday September 16, 2012 in the Grand Ballroom of the famous Waldorf-Astoria hotel on New York's Park Avenue.
Now in its 16th season, Couture Fashion Week (CFW) will return to the Waldorf-Astoria on September 15-17, 2012. Couture Fashion Week (CFW) is known for its unforgettable experience of style and luxury and is a major event in the fashion capital of the world. Stunning display of fashion and accessories by designers from around the world, exhibits of art and luxury products and services, world-class entertainment, after parties and more are in store during the event.
"My collection this year consists of some of my most favorites. Each piece is unique, handcrafted and have meticulous embroideries and embellishments," said Parna Ghose, President and Chief Designer of Pure Elegance. "The collection is soft, elegant and vintage which makes it reminiscent of timeless beauties. The collection includes a mix of ultra-feminine flowy skirts and dresses in vibrant colors, exquisite fabric, timeless designs that are enhanced with thread, zari and antique zardosi embroidery. I cannot wait to see the girls sashayed down the ramp in lehengas, sarees, long anarkali styled kurta and churidars," added Parna Ghose.
Wedding-wear primarily dominates 'India-inspired' couture wear. As fashion is becoming more international, fashion audience is beginning to appreciate distinct, new creativity from all around the globe. This invitation from New York Couture Fashion Week confirms a growing trend in recognizing ethnic fashion at the global stage.
About Pure Elegance
Pure Elegance is a South-Asian fashion brand based in US and serving women worldwide. It is the leader in India-inspired fashion that balances trends with tradition. Pure Elegance makes both traditional ethnic couture and ready-to-wear western designs for fashion-conscious women worldwide. With over seventy five thousand Fans on its Facebook page, Pure Elegance is the fastest growing brand for South-Asian fashion.