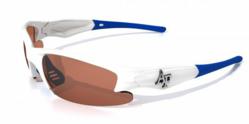 Colorado Springs, CO (PRWEB) August 29, 2012
Maxx HD® Sunglasses announced today the release of their United States Air Force Academy® eyewear collection. These USAFA® insignia high definition sunglasses allow Maxx customers to express their school spirit and share in the excitement and tradition of the USAFA® Falcons, while protecting their eyes.
The USAFA® collegiate sunglasses are proudly offered in the MAXX HD® Dynasty model. The entire line of USAFA® sunglasses are highlighted with the University's logo in metal on the arm and are offered in the schools vibrant blue and white colors.
"The launch of our USAFA line is truly an exciting time for MAXX as well as for me personally," stated Maxx COO Bret Milner. "Growing up in Colorado Springs, the USAFA is our home team and the team my family always cheered for. I am truly proud to support our local team and wear my USAFA shades to home games this season."
The Maxx HD® corporate office and fulfillment center is located less than 5 miles away from Falcon Stadium. Falcon fans can look for the MAXX HD promotions team at most home games this year. The promotions will allow fans to see the sunglasses first hand and see their soaring Falcons through high definition.
The USAFA® line will be available in retail outlets as well as on the company's website at http://www.maxxsunglasses.com.