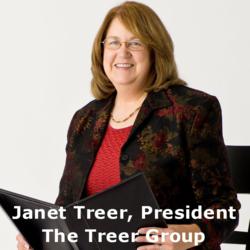 There are excellent talent assessment tools that can provide reliable insight into how successful employees will be in different types of jobs.
Lancaster, PA (PRWEB) August 30, 2012
As the employment market changes and competition increases, The Treer Group recommends that businesses optimize their hiring, promotions and other job assignments through the use of personality profiles and talent assessment tools.
"Most organizations use metric-based systems when reviewing employees, managing financials and doing business planning, but few do so when hiring new staff or considering promotions and reassignments," says Janet Treer, President of The Treer Group, a coaching, leadership development and management consulting firm based in Lancaster, PA. "There are excellent talent assessment tools that can provide reliable insight into how successful employees will be in different types of jobs. Effectively using them can significantly improve business performance and bottom line results, especially as the employment and competitive environment changes."
The most beneficial talent assessment tools measure a range of personal traits that enable qualified professionals to predict employee performance with a much higher level of accuracy. Maximum benefit is gained from utilizing the right combination of metrics.
"At The Treer Group, we recommend a specific combination of metrics," continues Treer. "Our ADVanced Insights strengths profiles combine three key personality dimensions: natural talents, how people think and make decisions; motivators, what they value and what drives them; and behaviors, how they prefer to behave. Together, they reveal the what, why and how of personal traits."
Decades of multidisciplinary research have established that effective assessments measure these three fundamental categories of characteristics. Numerous studies have statistically validated this approach.
"We know that certain personal traits are more compatible with some jobs than others," says Treer. "Performing a talent assessment before making a staffing decision can avoid inevitable problems and greatly improve the employee's success."
Following are examples of personality profiles that are most compatible with selected jobs:
Sales Role – Outside, Short-Term Sales

Typical Natural Talents – a focus on practical results and a drive for action and achieving the outcome
Typical Motivators – one driven by money or practical results; someone comfortable being an individual and who likes to make and influence decisions – be in control of the sale
Typical Behaviors – a self-starter who is competitive, action-oriented, has a high sense of urgency, is very persuasive and is able to influence others
Customer Service Role

Typical Natural Talents – a supportive approach, keeping the customer's needs and emotions front of mind while still seeing the practical needs of the situation
Typical Motivators – a passion for serving and helping others, coupled with a desire to achieve balance and harmony in any situation; inspired to do what is needed to make the customer happy and satisfied
Typical Behaviors – one who is supportive, service-oriented and caring; not pushy, aggressive or overly analytical
Manager/Supervisory Role

Typical Natural Talents – one who is able to define the objective, plan the course of action and tactical execution of what needs to happen; one who is able to address difficult emotional situations from an objective, unemotional stance
Typical Motivators – one who likes to be in charge and have influence, enjoying the associated authority and responsibility; motivated to create and maintain standards and quality control while reinforcing an excellence in operations approach
Typical Behaviors – one who is centered around operational efficiencies, compliance with regulations, effectiveness of action and task management; promotes adherence to standards, quality assurance and attention to detail; more of a finisher than a starter
Note: typical traits of successful senior managers are different.
"When hiring or promoting, this information can be invaluable," says Treer "It is important to stress that reliable outcomes require the right combination of validated talent assessment tools and expert interpretation. The results are only as good as the resources used."
Read More About Personality Profiles
Subscribe to Management Updates, The Treer Group's Monthly Bulletin
Read Janet Treer's blog:Manage2Succeed
About The Treer Group: The Treer Group provides coaching, assessments, tools and guidance to help organizations and individuals identify areas in need of improvement, discover practical solutions and implement long-lasting change that comes from within. Janet Treer, President, founded The Treer Group in 2007.