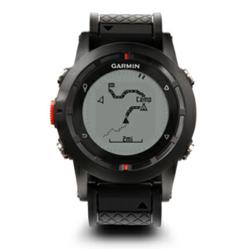 It's as close to the Dick Tracy watch as it gets
Bozeman, MT (PRWEB) August 30, 2012
Garmin has been busy in 2012 releasing new GPS watch and cycling products according to the Heart Rate Watch Company. With the 4th quarter Holiday season shopping just around the corner summarizing these new devices and their benefits all in one place creates value for consumers.
GARMIN fENIX - IT ONLY LACKS A CAN OPENER
The Garmin fenix is due to be in stores in the next 10 days. "If advanced orders are any indicator then this watch is going to take the market by storm in the 4th quarter", says Rusty Squire, President of the Heart Rate Watch Company.
What is so special? It uses handheld maps on a watch screen, makes use of a compass,
altimeter and barometer, plus can lead users right back to their car with ease. Garmin fenix even does heart rate data and can double as a cycling and running watch, or heart rate monitor at the gym. "It's as close to the Dick Tracy watch as it gets", says Squire.
GARMIN FORERUNNER 10 - EASE OF USE, LOW PRICE, PACING FOR RUNNERS AND WALKERS
The new Garmin Forerunner 10 was just announced two days ago and is due out in mid-September. This is Garmin's, lightest, easiest to use and lowest priced GPS watch ever. "This watch is ideally suited to joggers, walkers, hikers and anyone who wants distance and pacing but does not care for a heart rate strap or that type of data", says Squire.
NEW GARMIN EDGE?
While Garmin Edge 900 may not be the name, the internet has content all over with a rumored update version of the Garmin Edge 800 bike computer. The Edge 800 was, without a doubt, the most tricked out bike computer in the world but what new capacities the upgraded version will have will have to wait until Garmin releases those details.
GARMIN SWIM - THE WATCH FOR WATER WORLD
The Garmin Swim came out in June and it counts laps, strokes and swim efficiency, along with compiling a SWOLF score and downloading all the data in very visual form to Garmin Connect software. It is Garmin's first swim watch and certainly bests the other swim watches we have tested.
GARMIN VECTOR - POWER OUTPUT FOR THE SERIOUS CYCLIST
Garmin Vector power pedals, which measure left/right power balance, were announced last year, hopefully they will be out by year-end or, at the very least in time for the 2013 cycling season.
"Garmin has had a lot going on this year, so it will be interesting to see what other upgraded versions come our way for 2013", states Squire.