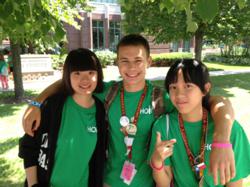 HOBY/WLC looks for students who display leadership qualities either through their academic work or volunteerism in the community. Those qualities are what describe Highland Hall students.
Northridge, CA (PRWEB) August 31, 2012
Mateo Halverson, a 10th grader at Highland Hall Waldorf School in Northridge, CA, was selected to attend the 2012 Hugh O'Brian Youth Leadership (HOBY) World Leadership Congress (WLC). Halverson joined over 425 international students representing 15 different countries for the week-long seminar. Founded in 1958, HOBY is the nation's foremost nonprofit youth leadership development organization. Its mission is to inspire and develop the global community of youth to a life dedicated to leadership, service and innovation. HOBY programs are conducted annually throughout the United States, serving local and international high school students. Since its inception in 1955, Highland Hall has been nurturing and developing students in all their capacities to become leaders of their own lives, capable of making positive contributions to the world. HOBY and Highland Hall have much in common.
"HOBY programs provide an opportunity for youth to participate in unique leadership training, service-learning and motivation-building experiences," says Highland Hall's Annie Pinkney, Director of College Counseling. "HOBY/WLC looks for students who display leadership qualities either through their academic work or volunteerism in the community. Those qualities are what describe Highland Hall students. The Highland Hall community is very proud of Mateo's involvement in this amazing organization."
"Mateo participated at HOBY's World Leadership Congress this summer at Loyola University in Chicago, IL. ," says Dr. Baroi, one of Mateo's sophomore class sponsors at Highland Hall. "The education I am getting at Highland Hall has given me the tools to succeed in an environment like HOBY," says Halverson.
Now in its 44th year, the World Leadership Congress is a dynamic leadership program that brings together students from the U.S. and abroad. WLC attendees had access to a distinguished group of leaders from a variety of backgrounds including business, government, international affairs, science and technology, medicine, media, and education. The weeklong program included interactive and dynamic educational sessions, collaborative workshops, leadership exercises, community service projects and individualized trainings.
"The students attending the WLC have demonstrated outstanding character, leadership and determination," said Javier LaFianza, president and CEO of Hugh O'Brian Youth Leadership. "Every single HOBY WLC volunteer can attest to this group's ability to create a positive change in the world. There is no doubt that this week has prepared everyone for a lifetime of successful leadership, devoted to improving our communities and the world, in service to others."
Hugh O'Brian Youth Leadership was established in 1958 by actor Hugh O'Brian following an inspirational visit to Africa with Dr. Albert Schweitzer. The goal of HOBY is to provide a catalyst to lifelong leadership development, empowering individuals to achieve their highest potential. As the Ambassadors are exposed to new ideas and engage in challenging topics, HOBY hopes to illustrate how to think constructively and discuss complex issues with individuals from various backgrounds and beliefs. HOBY's goal is to show the Ambassadors how to think rather than what to think. Since 1958 HOBY has been a part of more than 365,000 students' lives, many of whom continue to volunteer on HOBY seminar planning committee's, in their local communities, and schools to keep the HOBY sprit alive.
The World Leadership Congress was held July 21 – 28 at Loyola University Chicago's Lakeshore Campus. To learn more about HOBY or the World Leadership Congress, please visit at http://www.hoby.org.
Highland Hall Waldorf School is located in Northridge, California. Founded in 1955, it is the oldest Waldorf school in the western United States and offers an independent alternative to public and other private schools, providing the Waldorf Curriculum from Early Childhood through High School graduation. Its mission is to guide students in the unique Waldorf curriculum, striving to endow each student with discernment in thought and action, a joy of learning, and a sense of wonder and reverence for life.
Highland Hall's students graduate with a solid academic foundation, the ability to think creatively, a sympathetic interest in the world, self-confidence, and an abiding moral purpose. They move on to renowned colleges and universities of their choosing and continue onto accomplished careers in their chosen professions.
An interview with Mateo Halverson can be viewed here: http://youtu.be/umKb7bM_2EU
Further information may be obtained at http://www.highlandhall.org or by calling 818-349-1394 x 233