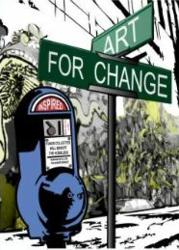 Nashville, TN (PRWEB) August 29, 2012
The Art for Change event is part of an organized effort between the Metropolitan Homelessness Commission, Nossi College of Art and the Nashville not-for-profit organization The Key Alliance. With additional support from other downtown community businesses and organizations, the goal of the special event is to artfully showcase several blue donation meters located in downtown Nashville associated with the Adopt A Meter program. Due to the expectation of bad weather, the Art for Change event has been rescheduled for October 6, 2012.
The event will still take place in concert with the Nashville First Saturday Art Crawl in October. Illustration students from the Nossi College of Art will create a work of art adjacent to select donation meters located on Second Avenue North, Broadway and Fifth Avenue North. Members of the Nashville community and visitors alike are invited to arrive a few hours early and vote for their favorite piece. This community event is part of the overall efforts of the Nashville Metropolitan Homelessness Commission to find a permanent solution to chronic homelessness in Nashville.
The Student Arts Competition will be held from 1 to 4 p.m. and voting will continue until 7 p.m. Voters simply need to insert coins in the corresponding donation meter to cast a vote. The winners of the competition will be announced at a separate event (date to be announced) where the students' artwork will also be available for auction. A coupon for event parking, as well as a map revealing the locations of each meter can be found on the Adopt A Meter website.
The Adopt A Meter program was first introduced to Nashville in 2010. There are currently 26 blue donation meters, which are actually refurbished parking meters, located in high-foot traffic areas of downtown Nashville. The Art for Change program has been designed to create a higher level of awareness concerning these donation meters and their purpose. Art for Change takes a unique approach to fighting homelessness by using art to inform the community and motivate them to take action. Every quarter, dime or nickel placed in these specified donation meters will go towards programs developed to reach Nashville's homeless population and provide them with sustainable housing.
Sponsors for the Art for Change Student Competition are still available. which will allow event organizers to provide a scholarship to the winning student group.
For more information on the Art for Change event and the Adopt A Meter program, including volunteer opportunities contact Judith Tackett, judith.tackett (at) nashville (dot) gov or visit The Key Alliance website. Also for additional details on purchasing a sponsorship for the Art for Change Student Competition contact, Libby Funke at lfunke (at) nossi (dot) edu or 615-514-2787.