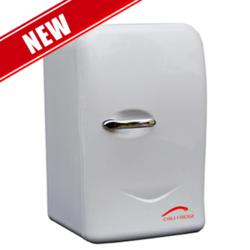 Products You Can Count On From People Who Care
North Yorkshire, United Kingdom (PRWEB UK) 30 August 2012
The Summer Season is here with promising vacations, outings, get-togethers, etc. However, the downside of this hot and humid season cannot be overlooked. One cannot travel without proper arrangements for refreshers and cold drinks. One of the best inventions to beat the heat in Summer Season is Mini Cooler. CNM Online presents an extensive range of mini coolers. These tiny coolers are ideal for small home with limited spaces, for travelling, for mini offices, etc. With these minifridges, one can forget the blues of summer to an extent. These fridges are multipurpose. No one can afford to miss this tiny invention. Companies avoid refrigerators for the rising overhead costs. What employees can do is get a mini fridge that can adjust under a table, and enjoy chilling beverages anytime. Personal fridge is indeed a luxury in offices.
Revealing more about these great cooling devices, the Senior Spokesperson at CNM Online says, "Besides offices, these coolers are a boon to hostel students. Exam schedules overlook soaring temperature mandating students to study late at night. Cold beverages are necessary to avoid dozing off between long study hours. These tiny coolers make dorm parties more interesting with freezing beer post exams. Moreover, students can afford these devices with their limited pocket money. CNM Online has leading brands on its product line to offer efficient and affordable solutions."
These mini fridges make road trips more exciting, especially in the summer together with the kids. While kids enjoy their chilled fruit juices, elders can beat the heat with freezing sodas. These tiny fridges are portable and fits into the luggage counter easily. Homes that have stuffed refrigerators and do not know where to store the alcohol can find a haven in this mini fridge. This fridge can be locked to keep alcohol away from kids. People will not have to worry to source chilled champagne if they have this tiny device in their home. CNM Online have these fridges in various capacity to meet diverse needs, right from 17 litres to 76 litres and more. People can select a Tabletop freeze or a dedicate wine cooler, an under the counter, a showcase fridge in mini retail stores, or a chest fridge for ice creams and cold eatables.
The Senior Spokesperson at CNM Online continues mentioning the advantages of these tiny refrigerators, "Men who want a dedicated fridge for themselves should definitely opt for this device. This way, they can keep their collection of beer away from their kids easily. People will not consider this fridge useful until and unless they have it on board. Probably, they will then not part with this cool invention, literally. These mini devices look cool in garages, living rooms, bar counters, sheds, kitchens, caravans, and a thousand other places."
About CNM Online
CNM Online is a family run business founded in 2004. The site has more than 200,000 customers and believes in offering solutions rather than products. The largest supplier of heating products for home, CNM Online offers a range of efficient and affordable solutions.
For more, visit http://www.cnmonline.co.uk/Fridges-c-1768.html