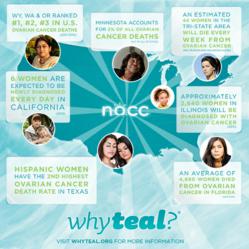 Ovarian Cancer is the deadliest of all gynecological cancers and all women are at risk.
Dallas, Texas (PRWEB) August 30, 2012
The National Ovarian Cancer Coalition kicks off its nationwide campaign, WHY TEAL?, in September during National Ovarian Cancer Awareness Month, which aims to reach over 100,000 people throughout September, educating on the often misunderstood signs and symptoms of ovarian cancer. With more than 22,000 women newly diagnosed each year, and more than 15,500 lost to the disease annually – NOCC wants everyone to join in the fight against this deadly disease.
WHY TEAL? includes an interactive initiative, "GOT TEAL'D?," which spreads awareness by encouraging participants to "TEAL" publicly viewed objects and spaces like storefronts, hospitals, homes, offices, cars, coffee shops, classrooms and more by decorating these spaces with teal-colored decorations.
Participants can place "GOT TEAL'D?" posters at the scene of the project, which can be downloaded at WhyTeal.org – a mobile-friendly site that also contains samples, instructions and other resources. Each poster is equipped with a QR code that be scanned using a Smartphone or Tablet to learn more. Participants can submit photos of their "GOT TEAL'D" project and the photos will appear in a gallery at WhyTeal.org. Participants are also encouraged to share the infographic and video located in the "Share" section on the website or make a donation to support ovarian cancer awareness programs.
"Ovarian Cancer is the deadliest of all gynecological cancers and all women are at risk," says Kelly Mellott, NOCC Communications and Social Media Strategist. "Most cases are diagnosed in the later stages when the prognosis is poor. However, if diagnosed and treated early, when the cancer is confined to the ovary, the five-year survival rate is over 90 percent. Currently, there is no early detection test so it is imperative that the early signs and symptoms of the disease are recognized, not only by women, but also by their families and the medical community."
WHY TEAL? will educate and bring awareness to people about ovarian cancer and unite a nationwide community of awareness so we can break the silence on ovarian cancer. If you would like more details about the WHY TEAL? project, please visit WhyTeal.org.
About National Ovarian Cancer Coalition
The National Ovarian Cancer Coalition (NOCC) The mission of the National Ovarian Cancer Coalition (NOCC) is to raise awareness and promote education about ovarian cancer. The Coalition is committed to improving the survival rate and quality of life for women with ovarian cancer. http://www.OVARIAN.org