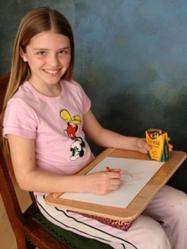 Using a Luxury Lap Desk allows children to sit up straight and use their vision more effectively.
Eugene, Oregon (PRWEB) August 31, 2012
Lap of Luxury Lap Desk believes that using a lap desk for doing homework is a great idea. Not only is it an excellent working surface, but using a desk improves posture due to the deep attached pillow. For children who prefer to sit on the floor or couch to work, using a lap desk will enable them to sit up straight and drop their shoulders cutting fatigue and increasing comfort (and hopefully time spent doing homework).
Vision is also an issue addressed by using a Lap Desk. Developmental vision therapists will often suggest that a student use a lap desk to stabilize material at the appropriate working distance from their eyes. According to Carol Marusich, Optometric Physician and Board Certified Vision Therapist, the 20-degree tilt provided by the lap desk improves postural control of the entire body and aligns the eyes with the homework more easily. This makes focusing, eye movements and eye teaming more comfortable and efficient.
"We recently added a line of cute fabrics for kids and fun fabrics for teenagers," says Kathleen Hogan, Owner and Lap Desk designer. "We have something for everyone in our extensive fabric selection. Parents can also write to us and arrange to mail in fabric. That way a specific interest can be met."
Attention to detail, quality materials, and a wide variety of excellent fabrics makes Lap of Luxury Lap Desks stand apart from other makes of lap desks. The varieties of wood available for the ½" desk top include walnut, cherry, maple or bamboo. Each desk is essentially a custom order.
Since 2005, Lap of Luxury Lap Desks has made products that allow users to work away from a table or desk with support and ease. Offering this Back To School Special is our way of showing appreciation to our youngest customers and to their parents.