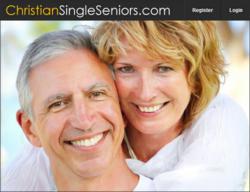 We've seen a more than 20% rise in membership.
Torrance, CA (PRWEB) August 31, 2012
As the majority of seniors take to the Internet, many are turning to senior dating sites to find long-term partners.
2012 saw a significant spike in the number of senior Internet users. According to the Pew Research Center, "53% of American adults age 65 and older use the internet or email." This marks the first time more than half of all seniors are using the Internet.
Like most social groups, senior Internet users are not only more likely to use social networking sites like Facebook and Twitter, but online dating sites as well. According to a 2006 Nielsen report, "computer users aged 55+ accounted for 16.7% of all traffic to online personal sites." This number is only growing.
Olga Wright, company representative for top senior dating site ChristianSingleSeniors.com has seen a large number of senior singles join as of late: "Senior singles have been signing up for our site quite steadily over the years," but 2012 marked a huge rise in the number of new memberships. Since we debuted our software a little over a month ago, we've seen a more than 20% rise in memberships."
About ChristianSingleSeniors.com
http://www.ChristianSingleSeniors.com is a part of the Christian Network that was established in 1997. The Network has been growing ever since and now presents one of the largest Christian online communities offering various recourses for Christians all around the world. The Network consists of Christian dating, counselling, business and job placement opportunities, and other social websites to help members stay connected with the local and international Christian community. The Network performs by Faith and always welcomes its members' suggestions and prayers.