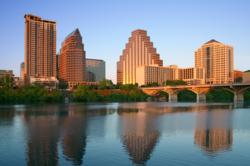 We understand the importance of supporting local initiatives.
Austin, TX (PRWEB) August 30, 2012
Every city has its own unique culture. Whether it's an industrialized city in the northeast or a small ranch town in the Midwest, it's culture and community cooperation that make towns and cities out of seemingly unrelated people. In a city like Austin, which is currently experiencing a massive influx of newcomers, community commitment has always been an important aspect of the city. The local pride that many Austinites share is not limited to residents alone. In fact, there are many companies in the city that are proud to be Austin local.
Reilly Realtors is one of the many startups that is proud of its city. After all, their loyal clients make up the company backbone and Reilly Realtors is eager to engage in the spirit of Austin pride. One such way that the company shows its support is through its university & college discount program. But simply offering faculty & student discounts was not enough for broker-owner Michael Reilly. He wanted to take his community support to the next level.
"Austin is a fantastic city that has been very good to us," says Reilly. "As a result, we began in July 2012 to support many local organizations through sponsorship programs."
The Texas Solar Energy Society is one of the companies that Reilly Realtors supports. This non-profit organization is a popular part of Austin's "green culture" as one of their primary goals is to instruct Austin locals on the benefits or renewable resources and solar energy. Reilly Realtors also supports Keep Austin Beautiful, another local organization that is committed to protecting and preserving the environment. Keep Austin Beautiful, or KAB as is it commonly abbreviated, aims to improve the Austin community via waste reduction, litter clean up and community restoration projects. Both organizations require local volunteers, as well as the monetary donations that Reilly Realtors and other local businesses provide.
Reilly Realtors community support isn't limited to environmental groups. The company also supports Vegans Rock Austin, which serves up information on local vegan options, as well as the Town and Country Optimist Club, a provider of various programs and facilities for all who wish to engage in Austin sportsmanship.
"We understand the importance of supporting local initiatives," Reilly explains. "As a local company ourselves, we know what it takes to succeed in a competitive market, such as Austin real estate."
Reilly Realtors is carefully considering which local institutions they will support in the months and years to come. In a city like Austin, where locals are passionate about everything from restaurants to politics, this is no easy task. There are simply too many local groups for one company to support on its own. After all, Reilly Realtors is still a business and its primary goal is to help clients search Austin homes for sale. At the end of the day, this company remains committed to serving its customers and supporting the community as well.
About Reilly Realtors, LLC
Reilly Realtors, LLC was formed in 2006 by Michael and Shae Reilly, and focuses primarily on residential home sales in Austin and the surrounding areas. The brokerage is made up of 15 top producing agents with an average of 5 years experience and is on track to close $60,000,000 in residential sales for 2012. Reilly REALTORS operates the extremely popular website http://www.austinhomelistings.com, which allows the public to search virtually all Austin homes for sale with an easy to use map-based interface using data from the Austin MLS.
Michael Reilly, Owner
Reilly Realtors
512-600-1800