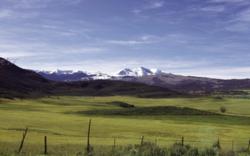 Aspen, Colorado (PRWEB) August 31, 2012
Alpine Property Management has three unique and signature luxury mountain homes on the market in their current Aspen real estate listings. These homes are 731 Hillcrest Drive in Basalt, a development property in Old Snowmass on Lazy O Road, and Pines Estate in the Two Creeks neighborhood of Snowmass Village. The Hillcrest Drive home features a newly-remodeled 5,142 square foot interior with 4 bedrooms and 4.5 bathrooms. The interior space is thoughtfully designed in the contemporary mountain style. Though close to downtown Basalt and El Jebel, the Hillcrest Drive home is secluded and provides a great amount of privacy. The development opportunity in Old Snowmass is on Lazy O Ranch on Lazy O Road, and provides the advantage of designing a dream ranch home nestled in a quiet, scenic mountain valley. The Lazy O Ranch property includes a Ranch Manager, horse stable, tennis courts, and an impressive pond and spring. The luxury estate in the ski-in ski-out Two Creeks neighborhood is considered a superb family ski vacation home. Pines Estate in Snowmass features 5 bedrooms, 5.5 bathrooms, ski-in and ski-out access, a tranquil environment with plentiful aspen and pine trees, large south-facing windows, and contemporary, tasteful furnishings and interior design elements.
These three current property listings brokered by Alpine Property Management represent the variety of location and listing type in which the real estate firm specializes. This real estate variety is meant to cater to the different demands and desires of home-buyers in the Snowmass, Old Snowmass, and Basalt areas. For more information on the Hillcrest Drive and Lazy O Road properties, contact Managing Broker Erik Cavarra, and for details on the Pines Estate property in Snowmass Village, contact Broker Associate Margaret Iverson. Both brokers can be reached by calling 970.544.5860.
---
Alpine Property Management is a management company based in Aspen and Snowmass Village, Colorado. With 70 years of cumulative property management experience, their mission is to provide an exceptional overall experience and efficient, detailed service for both those renting a property and for those owners renting out their property. Alpine Property Management brings their passion for excellence and their attention to detail in providing outstanding services to guests staying in rental properties ranging from rental and private homes, condominiums, and townhouses in Aspen and Snowmass Village.