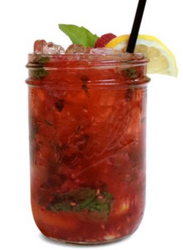 "The web-based promotion highlights a yearlong rotation of handcrafted, non-alcoholic cocktails."
Sacramento, CA (PRWEB) August 31, 2012
The California Office of Traffic Safety (OTS) launches new social media component in its continued effort to prevent drunk driving. Developed by full-service advertising firm, Glass Agency, the web-based promotion highlights a yearlong rotation of handcrafted, non-alcoholic cocktails. The campaign targets designated sober drivers and promotes Designated Driver Drinks, called DDrinks, as trendy beverage alternatives to the usual soda or plain water option.
OTS social medium platforms, Facebook and Twitter, feature a monthly rotation of 12 artisanal DDrinks. Each beverage featured on the Facebook application includes the full recipe and highlights the partner establishment and drink "mixologist." DDrink recipes can be printed, shared and emailed, all through the social media app. Patrons can utilize recipes to recreate each cocktail at home or supply recipe to bartenders via mobile devices at bars and restaurants.
Recipe submissions were curated from a long list of respected bars and cocktail lounges throughout the state. Featured DDrinks were selected based on creativity, seasonality and use of interesting ingredients.
Custom made upon order, these tasty concoctions can muddle up to six ingredients per glass. From seasonal favorites such as raspberries and peaches, to unique flavors as cinnamon and ginger, to the downright unusual jalapeno and basil, these combinations have proven to refresh the mightiest of taste buds.
The month of August features a raspberry and basil inspired concoction from renowned, local restaurant and bar, Cafeteria 15L.
"This campaign is exciting and innovative," says Christopher J. Murphy, Director of the Office of Traffic Safety. "These drinks are unique and are created by skilled bartenders who recognize the importance of offering designated drivers a tastier option."
Void of alcohol, these beverages widen the social aspect of weekend night outings to those with the important role of designated sober driver. They also offer up a tasty, mid-week drink alternative and are a great substitute at personal parties for non-alcohol consumers.
With heightened concern and enforcement throughout the month of August against drinking and driving, DDrinks are the perfect option for safe driving.
GLASS
Glass Agency is a full-service, fully integrated advertising agency located in Sacramento, California. Following previously released zombie anti-distracted driving campaign earlier this year, OTS continues to partner with Glass Agency to launch creatively-driven and targeted campaigns to keep our roads and drivers safe.