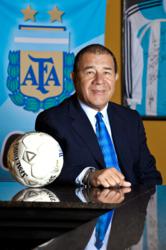 (PRWEB) August 29, 2012
For the fourth consecutive year, Cardenas Marketing Network (CMN) has been named to Event Marketer Magazine's prestigious "It List", an annual selection of the top 100 experiential marketing agencies in the United States. Founded in 2003, the multicultural marketing and entertainment giant was selected for key accomplishments, such as the rapid growth of its sports division, as well as the addition of new accounts.
"We're honored to receive this recognition for the fourth consecutive year," said Chief Executive Officer and President of CMN Henry Cardenas. "The event marketing landscape has become extremely competitive, and this achievement means that we're doing something right. However, this honor would not be possible if it weren't for CMN's passionate, hard-working and creative team that fully commits themselves to every project we strategically design and execute for our clients. I'm very proud of that."
CMN's five-year growth of 205% is attributed to activations for new clients including McCormick, MundoFox, Net10 Wireless, H&R Block, Neutrogena, and Goya, as the agency brought in $59 million last year in revenue.
The agency's subdivision, CMN Sports, has grown considerably. In a span of 15 months – and through its exclusive partnership with the Argentinean Football Association (AFA) – the agency produced two exhibitions featuring two-time FIFA World Champion Argentina, establishing record crowds and grossing more than $12 million between both events at the plush, new MetLife Stadium. In March 2011, the Argentina vs. United States friendly drew 79,000 fans who braved the cold in a thrilling 1-1 tie, while the Argentina vs. Brazil "Clasico" in June 2012 carried all the elements of a World Cup match, as a spirited crowd of 81,994 witnessed a hat-trick by three-time FIFA Player of the Year Lionel Messi, including a stunning, 85th minute goal to secure Argentina's 4-3 victory.
CMN Sports has also added a motorsports department and a promising young talent in Indy Lights driver Gustavo Yacaman, and its recent expansion into Europe via a partnership with Barcelona-based marketing and communications firm Arenalia hopes to identify and develop sports and entertainment projects in the U.S. and Europe.
CMN has been named to the "It List" every year since 2009 and has received a number of other recognitions in 2012. In April, the agency captured the "Best Tour Sponsorship" Award from Billboard while also being named to Chief Marketer's "Top 100" agency list, Hispanic Business' HB 500 list, and Crain's Chicago Business' "Fast Fifty" list for the third consecutive year.
ABOUT CMN
Founded in 2003, Cardenas Marketing Network (CMN) is an independently owned, multicultural event marketing and sponsorship agency that creates brand impact through award-winning campaigns featuring music, sports and other interactive experiences that capture the hearts and minds of millions of target consumers across the nation. In 2011, CMN produced more than 2,500 live events, including concert tours, experiential campaigns and mobile marketing tours for clients such as Wrigley, Anheuser-Busch, McCormick, H&R Block, General Motors and Goya, among others. With offices in Chicago, Los Angeles, Miami and New York, and a dynamic, results-driven team, CMN applies strategic thinking and flawless execution to deliver value for clients anywhere in the country.