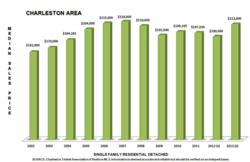 We're at the bottom of a five-year downturn in prices and it's currently possible to borrow money at the lowest interest rates in our lifetime. You can't ask for better circumstances for purchasing real estate.
Charleston, South Carolina (PRWEB) August 30, 2012
With the overall number of real estate listings in Charleston continuing to decrease, and market activity showing ongoing increasing trends, statistics continue to support definite and ongoing signs of recovery in the Charleston, SC real estate market. According to Charleston Preferred Properties, a sustained level of buying is among the many signs that consumer confidence in real estate is improving.
"Buyers are writing contracts at a pace that has not been seen since 2007," said Bart Jackson, the primary Buyer Representative at Charleston Preferred Properties. "There are many signs that indicate that now is the best opportunity to buy real estate in Charleston in many, many years."
1. Median sales prices are increasing.
By mid-year, the median sales prices for the overall Charleston real estate market and most of its sub-markets had begun to increase. Of twelve individual Charleston sub-markets tracked, nine are now trending towards higher median sales prices.
"This is better than expected and shows that short sales and bank sales are becoming a shrinking part of the market," says Jackson. "It also shows that 'deals,' while still out there, will continue to become harder to find."
2. Interest rates remain at historic lows.
With 30-year fixed-rate mortgages hovering around 3.5%, the appeal of buying now is stronger than ever.
"We're at the bottom of a five-year downturn in prices and it is currently possible to borrow money at the lowest interest rates in our lifetime," Jackson explains. "You can't ask for a better combination of circumstances when considering a real estate purchase."
3. New construction in Charleston has re-emerged.
Another indicator of health in the Charleston real estate market is home building activity. Those in the market to buy a new home in Charleston have an increasing number of options to choose from. New construction is increasing throughout the region and sales are strong. In fact, since the middle of 2011 through the mid-year point of 2012, new construction sales have increased by 15%.
About Charleston Preferred Properties
Charleston Preferred Properties represents buyers who are searching for residential property to purchase in the Charleston, SC region. From orienting clients to the area's neighborhoods, communities and listings, to negotiating the best price, terms and conditions, Charleston Preferred Properties fully and exclusively represents the interests of the buyer. The company's website provides in-depth information about Charleston real estate opportunities, including a comprehensive Charleston MLS search function, Charleston Area Guide, market reports and more.