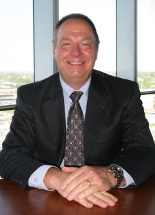 Tulsa, OK (PRWEB) August 30, 2012
Oklahoma City based civil engineering and land surveying consulting firm, Smith Roberts Baldischwiler, LLC (SRB) announces the opening of their Tulsa, OK office managed by Jack L. Page, P.E..
Jack L. Page, P.E. formally was the Director of Development Services in the Economic Development Department for the City of Tulsa. He was an employee with the City of Tulsa from 1978-2012. His responsibilities included overseeing the review and approval of development activities for the City of Tulsa. Such activities included the building permit process, zoning, signage, infrastructure connection control, inspections and IDP projects. Mr. Page also acted as the floodplain administrator for the City of Tulsa.
Mr. Page is a registered professional engineer, with a bachelor's degree in civil engineering from Kansas State University and a master's from Oklahoma State University. In 1992, Mr. Page received the Outstanding Public Service Award from FEMA, was named Floodplain Manager of the Year in 1993 by the Oklahoma Floodplain Management Association. Mr. Page received the Outstanding Engineer-in-Management Award from the local chapter of the Oklahoma Society of Professional Engineers in February 2002, as well as the State Oklahoma Society of Professional Engineers in August 2002.
SRB was formed in 1981 and their services include civil engineering, survey, design, municipal works, highways, flood control, streetscapes, recreation, utility coordination, right-of-way acquisition, environmental assessments, and construction inspection. Their corporate office is Oklahoma City, with satellite offices in Chickasha and Tulsa which enables SRB to service clients throughout the State of Oklahoma. Some of SRB's projects have been, the Devon Tower Site Design and Street Scape, Willow Creek Bridge Hydraulics in Cleveland County, Interstate 40 Land Use Planning Study for Core to Shore and multiple public and civil office buildings.
For more information about Smith Roberts Baldischwiler's services, please reference http://www.srbok.com.