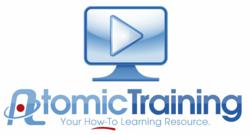 Little Falls, MN (PRWEB) August 30, 2012
In today's digital age, everyone does everything online, and this includes home buying and selling. According to National Association of Realtors research, nearly nine out of 10 recent buyers used the Internet in their home search process. It's much more than bus stop bench advertisements and jumbo postcards these days. Today's Realtors have to be online savvy in order to keep up with the fluctuating housing market.
Be an online savvy real estate professional with these three easy tips:
1) Search the Web with Confidence
Using search engines, such as Google™, to their fullest will not only get you to the answers you are looking for faster, but also provide you with accurate results you can trust. Watch Atomic Training's Searching the Web Workshop to learn more.
2) Avoid Plagiarism
Repurposing content for your real estate blog, enewsletter campaign, and direct mailers is just smart marketing. But are you citing information correctly? Find out what plagiarism really means, and how you can avoid it with Atomic Training's workshop on Avoiding Plagiarism.
3) Use Social Media to its Fullest
Expand client base by using social media to network. Facebook and Twitter are great ways for Realtors to get their names out in front of their communities. Not only get the training you need on the social aspects of the web, but also learn from this Social & Interactive Web Workshop.
Realtor's should make personal online professional development a priority. This can be a great way to stay relevant in today's digital world. Plus, With Atomic Training's online training solution you are able to learn when it is most convenient for you.
For more information about Atomic Training visit their website at http://www.atomictraining.com, or follow them on Facebook.com/AtomicTraining and Twitter @atomic_training. Also, Atomic Training's YouTube channel, youtube.com/atomictraining, provides a sampling of their software training.
About Atomic Training:
Atomic Training provides on-demand software training and support tutorials to help businesses and organizations fulfill staff technology training and development goals. Atomic Training was established in December 2010 as a division of, parent company, Atomic Learning. Atomic Learning has been providing high impact e-Learning solutions for more than ten years to 16 million users in 45 countries.