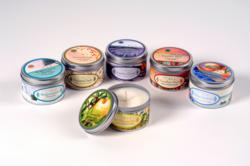 Lightning Labels uses a groundbreaking eco-friendly material for its green labels that's manufactured from 100 percent post-consumer waste.
Denver, CO (PRWEB) August 30, 2012
Lightning Labels, a leading custom label and sticker printing company, is committed to environmental sustainability and innovations that will not only benefit its clients, but also the world as a whole.
"Lightning Labels is pleased to be able to offer new materials that are eco-friendly in nature," said James Lowry, Lightning Labels general manager. "Our customers have been searching for options like these to support their sustainability initiatives and we are happy to be able to offer solid options."
A 2012 Accenture report said the demand for sustainable products is only expected to increase. According to a study included in the report, senior executives from companies across the globe say 34 percent of their customer base will demand more sustainable products and services in five years. What this may mean is sustainable goods will no longer be a premium - they'll be the standard. As a result, consumers may find more companies will follow Lightning Labels' lead and offer high quality green products, like eco-friendly labels, for an affordable price.
Many consumers find green products appealing and will go out of their way to purchase items whose green labels boast environmentally friendly practices. However, some companies do not adequately design or explain their labels, so customers have no real sense of how the product is helping Mother Nature. Lightning Labels' eco-friendly label materials may help rectify this problem.
The company's fully compostable material - made from Biostone rocks - provides companies interested in going green the opportunity to reduce their carbon footprint and win over environmentally conscious consumers. The literally groundbreaking label features an organic, earthy appearance thanks to the fact that it's manufactured from 100 percent post-consumer waste.
For years, conventional labeling wisdom called for durable labels to be made from petroleum-based materials. And while eco-friendly labels and packaging have become a major trend in the labeling world, this hasn't always been the case - people ultimately want product labels to be durable and long-lasting. Lightning Labels recognized the shift in consumer focus and now offers EarthFirst PLA film - a corn-based plastic that is water and oil resistant.
According to MarketResearch.com's recent report, "World Green Packaging," demand for sustainable packaging is projected to increase to $212 billion by 2015, accounting for a 6 percent increase each year. The myth that green products somehow have to be more expensive is slowly starting to fade, as more consumers recognize that what is good for the environment can also be good for their wallets.
Lightning Labels is doing its part to make custom labels and packaging more affordable and easier to purchase. Lightning Labels is extending customers an End of Summer savings* of $100 off orders of $750 or more from September 1, 2012 through September 7, 2012, using the promotional code LLBRD100 at checkout. Free ground shipping is offered on orders in the United States and Canada. Along with this announcement, Lightning Labels now accepts MasterCard, Visa, American Express and Discover online.
Lightning Labels looks forward to the day that packaging information will be as standardized as nutrition labels, listing a product's carbon footprint, water use and contribution to air pollution. With its use of EarthFirst and other eco-friendly materials, Lightning Labels is pushing boundaries and helping to accelerate the adoption of sustainable practices in the labeling and sustainable packaging industry.
About Lightning Labels:
Lightning Labels uses state-of-the-art digital printing technology to provide affordable, full-color custom labels and custom stickers of all shapes and sizes. From small orders for individuals, to the bulk needs of big businesses, Lightning Labels is equipped to handle and fulfill sticker and label projects of all types. Best of all, like the name implies, Lightning Labels provides a quick turnaround to every customers' labeling needs. Uses for Lightning Labels custom product labels and custom stickers include food packaging and organic food labels, wine and beverage labels, bath and body labels, and nutraceutical products, such as vitamins, essentials oils, and herbal remedies, as well as event stickers, adhesive window stickers and more. Lightning Labels strongly supports the development of environmentally friendly printing materials and carries EarthFirst PLA, a new kind of green label material made from corn instead of petroleum. While operating as a high-tech printer, Lighting Labels prides itself on its personalized customer service. For more information and to place orders online, visit LightningLabels.com. For the latest in packaging news and labeling promotional offers, find Lightning Labels on Facebook, Twitter (@LightningLabels), and Google+.
*Maximum discount is $1000. The offer applies to regularly priced orders only and cannot be combined with any other offers or promotions. Does not apply to reorders.