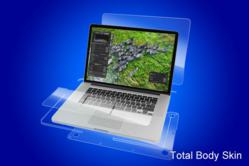 Westminster, CO (PRWEB) August 31, 2012
Best Skins Ever, the premier online retailer & manufacturer of clear film screen protectors for electronic devices, announced a new and improved film – the latest evolution in materials used to produce their products.
The new film will be rolled out on all 2012 releases, including the iPad 3 Skin, the new MacBook Pro Skins and the widely anticipated new iPhone Skin -- as well as most of the company's old designs.
The new film will feature self-healing properties to allow the product to keep its like-new design longer and better perform on touch screens. The new material will also provide more user comfort and should provide for an easier application on devices. Additionally, the new films will allow skins to better protect vulnerable areas, as each skin is custom made to the design and dimensions of the specific electronics they protect.
"When your products accessorize technology, you have to be able to continuously improve how they work," said Best Skins ever CEO Michael Herring. "Electronics evolve almost daily now. If we don't evolve with them, we'll be left behind."
Herring started his company with the interest of selling a good product at an affordable price. After buying an iPod skin from another manufacturer, Herring says he remembers receiving a well-marketed, beautifully packaged product – but one that didn't do the job effectively and eventually went in the trash. The experience frustrated him and so he started his company to create a quality product that is still affordable.
Herring works to keep the costs down on his elite skins and screen protectors by keeping his hand in the design and development of all his products. With Best Skins Ever's new line of film, Herring has once again found a way to manufacturer a premium, clear protective skin, without having to pass on prohibitive costs to customers.
About Best Skins Ever:
Best Skins Ever, based out of Westminster, Colorado, provides scratch-proof protective skins, covers & screen protectors for smart phones, laptops, tablet computers, media devices and more. A company that both manufactures and sells transparent products also believes in doing business transparently. Honesty, quality products at low prices and ease of use result in a best of breed company making best of breed products to help keep your shiny things looking shiny.