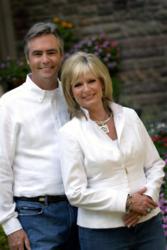 No one would even dream of getting in a car with someone who had no driver training, but in marriage, couples do that very thing, and at times the results can be as bad as a car wreck.
Dallas, TX (PRWEB) August 31, 2012
Grace Products Corp. of Dallas, TX is taking premarital counseling to the next level. Their series, Marriage 101 – Back to the Basics, is an online counseling resource available anytime, anywhere to couples all over the world. This eight session series, with financial guru, Dave Ramsey, and Dr. Gary Rosberg (America's Family Coach) has solved a major problem facing many counselors and ministers today.
Quality premarital counseling has proven to be an excellent tool to combat the soaring divorce rate. But recent research has shown that because of the many challenges facing counselors and ministers today a majority have either dropped or curtailed their premarital counseling efforts. Personal time demands, budget cuts, and scheduling conflicts have forced many to short circuit premarital counseling. The result: little or no improvement in the quality and length of marriage relationships. With the divorce rate sticking at 50% for first time marriages, and even higher for subsequent marriages, it seems there would be a better way to help couples prepare for a marriage that will last for a lifetime. Marriage 101 Online uses modern technology to help solve the problem.
Marriage 101 Online was designed to help deliver quality premarital counseling content, that is easy to access, from anywhere at anytime. Counselors can give assignments, follow up on the work being done, and give feedback without the need to actually bring the couple directly to the office. This eliminates scheduling conflicts and saves them time because they don't have to be physically present as the couple views the sessions. He doesn't have to loan valuable DVD sets or warehouse workbooks. Everything is online, including the student manuals. The couples can just email the completed sections as they are completed and the counselor can review their progress and provide advice as needed. Interaction and personalization is not compromised and the delivery of content is streamlined with this new technology. Dr. Richard Devendorf of Liberty, NY says "I faced some real challenges with my premarital counseling and Marriage 101 helped me 'keep it simple', it's very convenient". Simple, convenient, and very affordable. Many states even offer discounts off marriage license fees with completion of the Marriage 101 Online Course.
Military, college, and swing shift couples have found the online aspect of Marriage 101 to be the answer to getting great counseling even though they may be hundreds, or even thousands of miles apart. It solves the need for "same place, same time" meetings. Skype, Face Time and other web tools have made it possible to have virtual counseling sessions that are very productive. Greg Vaughn, president of Grace Products, said "We have been able to counsel couples in Afghanistan, Japan, Kuwait, the Philippines, literally all over the world. Technology has given us the right tools for the right time". In answer to the question about why couples should even bother with premarital counseling Vaughn said, "No one would even dream of getting in a car with someone who had no driver training, but in marriage, couples do that very thing, and often the results can be as bad as a car wreck. Divorce is traumatic and costly. The average couple spends $29,000 for the wedding; $95 for a tool to make that marriage last is well worth the expense. The wedding is but a day, the marriage is for a lifetime."
Many parents and grandparents are getting in on this technological train and are purchasing Marriage 101 for their starry-eyed progeny. They see the benefit of quality counseling and know from experience what it takes to make a marriage last. Marriage 101 Online finds itself a very popular gift at engagement parties and wedding showers.
Dave Ramsey and Dr. Rosberg are very engaging instructors and Dr. Rosberg's wife, Barb, also joins in to make it a team effort with a strong woman's perspective on every subject. Modern technology is now providing a personalized connection between counselor and couple that didn't exist 20 years ago. Marriage 101 Online is a great solution to reduce a problem that continues to plague our society, divorce.
About Grace Products Corporation: In 1984 the founder, Greg Vaughn, discovered that most couples prepare more for a driver's license than to make one of the most important decisions of their: Marriage. He decided to help make a difference. With his series "Before You Say I Do" and "So, You're Getting Married" he has reached more than 300,000 couples. "Marriage 101" is the latest in this line of premarital counseling resources and is now also available totally online.