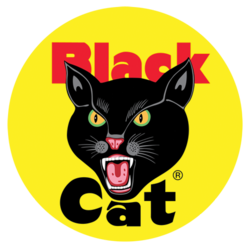 Black Cat is the Best You Can Get!
Prairie Village, KS (PRWEB) August 29, 2012
This September kicks off with football while Black Cat® Fireworks launches its 2013 new product line with the help of our Master Distributor, Winco Fireworks International and our partner Black Market Fireworks in Joplin, MO. Winco Fireworks, Black Cat's largest U.S. importer will provide the Black Cat product and Black Market Fireworks, a major Black Cat® importer, retailer and wholesaler is providing the Joplin shoot site at their facilities for Black Cat import customers to view and enjoy at this special invite demo.
Manufacturing lead times require importers of fireworks to place orders in early fall in order to receive goods in time the next July 4th Selling Season. Black Cat® Fireworks works with core factories in China to provide the highest quality of fireworks for the U.S. consumer market.
Black Cat® Fireworks will also be displaying its 2013 product line and marketing sales tools at the National Fireworks Association (NFA) Expo Trade Show, also held in Joplin at the Holiday Inn Convention Center, September 7 - 8. Here Black Cat Fireworks and Winco Fireworks will man six booths for the anticipation of over 1000 buyers.
The NFA was formed in 1992 and its goal is to protect the rights of individuals and companies to utilize and enjoy fireworks with safety being the key concern. For more information, visit the NFA site, http://www.nationalfireworks.org.
About Black Cat Fireworks:
For the past 60 years, Black Cat® Fireworks has been the #1 most recognized fireworks brand in America. The Black Cat® brand was introduced in the U.S. in the 1940s and is now the oldest and most highly recognized fireworks brand in the country. Black Cat® has evolved from the basic firecrackers to a product line that today contains over 500 items. Continued focus on quality, safety and innovation has made Black Cat® an international brand, with presence in markets all around the world. For more information, visit the Black Cat® Fireworks site,
http://www.BlackCatFireworks.com.