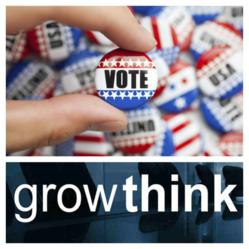 Los Angeles, CA (PRWEB) August 29, 2012
Entrepreneurship is the lifeblood of the United States. Companies like Growthink (http://www.growthink.com) work with thousands of small business owners and entrepreneurs nationwide to help these innovators create more jobs and live the American dream of running their own successful companies. Working with entrepreneurs the past several months has been different than years prior, mostly due to the Presidential election frenzy hitting the press daily and non-stop buzz from experts on social media. Growthink's team of entrepreneurial business consultants are seeing large masses of their clientele favoring different candidates in the 2012 election. That's expected, of course, but little did the Growthink team know that entrepreneurs had so much passion built up and really needed a voice to represent them this election.
If you're wondering why Growthink is speaking on behalf of entrepreneurs it's because they are entrepreneurs. Not only are they a business planning firm and investment bank which has helped over 500,000 small businesses raise over $2.5 billion in growth capital, their leadership team consists of successful serial entrepreneurs and investors who have been the biggest advocates for entrepreneurship nationwide over the past decade. For example, Growthink's President and co-founder Dave Lavinsky has stood up on VC panels and defended entrepreneurs getting laughed at by 'sharks.' "These ideas and inventions are their entire lives and not to mention sometimes their entire life savings...Entrepreneurs need to be treated with respect and encouraged that a little planning goes a long way no matter what state our economy is in" says, Lavinsky. It's apparent the Growthink team considers it their duty to see entrepreneurs start and grow successful companies, but they can't do it alone. Who is going to lead them to eminence in January?
Jay Turo, CEO of Growthink Inc., (http://www.growthink.com) recently stated, "Too rarely discussed in the constant Democrat - Republican back-and-forth about who is doing more to improve the nation's jobs outlook is where, and by whom, are jobs created in a modern economy. And to no surprise, politicians have VERY little to do with it.   According to a famous M.I.T study whose findings have been validated by the Kaufman Foundation and others time and again; new business starts account for more than 2/3 of all net new job creation and the other 1/3 come from "gazelles," - the 641,000 U.S. firms with between 20 to 1,000 employees." The old saying is people are entitled to their opinions, but not their own facts.  And as the facts have clearly shown for over 30 years, it is new and small businesses which create jobs, and anything that can be done to make that easier for them is the key to the United State's job challenge."
In a way, its a perfect advantage for Growthink to hear hundreds of different views from their clients and politically savvy CEO. November 6th marks the day the nation will head to the polls and vote for their new, or continuing, Commander in Chief.
Mr. Tucci a New York based engineer and entrepreneur says, " For one, our current President says that Obamacare does not affect middle class, but it does. In 2013 business owners will not be able to write off their insurance coverage. This in itself is a big pill to swallow and something to consider when voting in November."
Will small business owners continue to carry the weight of the economy on their shoulders? The Growthink team believes entrepreneurs are the biggest "DOers" and best problem solvers worldwide, they want to encourage all small business owners to vote on Tuesday, November 6th.
Growthink is a business planning firm and investment bank that has helped over 500,000 entrepreneurs to start., grow, and or exit their businesses. Growthink has helped raise over 2.5 billion in growth capital over the past decade and will continue to serve today's entrepreneur and small business owners nationwide. For more information please visit: http://www.growthink.com or call 800-506-5728.