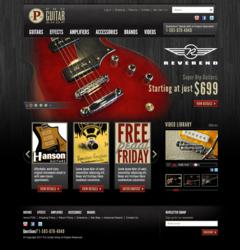 Denver, CO (PRWEB) August 31, 2012
Indaba Group announces the recent release of proguitarshop.com, breathing life into the online brand to match the magnificence of the brick and mortar store.
Although Pro Guitar Shop initially launched its business online, it has since put down roots in Portland, Oregon. In just five short years, it has grown to be one of the largest guitar stores in the PDX metro area. They pride themselves in carrying one of the largest collection of boutique effects pedals in the USA, and has proven to be one of the most innovative retailers online.
In addition to a brand new look and feel, video library and revamped product database, Indaba also created a new mobile version of the newly redesigned website.
The biggest challenge was importing the massive product catalog into the new Magento database, all without a hiccup. Armed with an easy-to-use back-end, photoshop imagery templates and a home for new videos, Pro Guitar Shop can now keep their website as current as their stylish Portland digs.
###
Indaba Group is an award-winning Magento partner, providing customers with complete ecommerce solutions, including discovery, design and custom website development. Leveraging their industry leading team of professionals that specialize in all facets of running a ecommerce business, Indaba offers In-Commerce - a complete solution to selling products online. Offices are located in Denver, Colorado, with a sister office in Lymington, England.