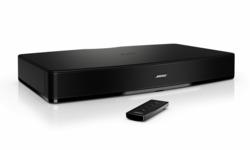 Framingham, MA (PRWEB) August 30, 2012
Today, Bose introduces the Solo TV sound system, an unobtrusive, single speaker designed specifically for watching television. The Bose® Solo system dramatically improves the dialogue, music, action and sound effects from everyday programming, takes just one connection to the TV, and fits neatly under many TVs.
"TV picture quality has improved over the years, but its audio quality hasn't," said Doug Lankford, Bose Director of Home Theater Product Marketing. "The Bose Solo TV sound system was developed for the love of TV –- for people who don't want a home theater system. It delivers detailed sound at any volume, without the complications or intrusions of multiple components. One listen, and you'll realize how much you've been missing in your favorite shows."
The Bose Solo TV sound system measures just 2.8" high x 20.7" wide and just over 12" deep -– yet it delivers detailed, wide, even sound using proprietary Bose digital signal processing and Bose speaker array technology. Owners will hear program audio clearly and naturally, even at lower volumes. And regardless of what's being watched, it can now be heard with the intended impact –- the whispered conversation between two actors, the powerful vocals of a talent show, the music supporting a drama, or the crack-of-a-bat for a game-winning home run.
The Bose® Solo TV system will work with any TV, but was designed for placement under flat-panel televisions that have a base up to 20" wide and 10.25" deep -- requirements met by TVs with screens up to 32" and many 40" to 42" televisions.
Set-up and use is simple. The Bose Solo TV system connects to a television with just one cable and one plug to the wall. No additional equipment, wiring or adjustments is required. A remote control is included, and the system can also be operated by most universal remotes.
"People will enjoy the Bose Solo TV system every day," said Lankford. "It's not a product reserved for special occasions, or movie night -- and that's what makes it so exciting. Every time you watch TV, the Bose Solo system improves the experience."
The Bose Solo TV system will be available from Bose for $399.95 beginning August 30, 2012. It will be sold at Bose retail stores, http://www.Bose.com, authorized Bose dealers and toll free at 1-800-444-BOSE (2673).
About Bose Corporation:
Bose Corporation was founded in 1964 by Dr. Amar G. Bose, professor at the Massachusetts Institute of Technology. Today, the company is primarily known for acoustics; however, its research has resulted in products for non-audio fields. Bose inventions have improved the performance of:

Loudspeakers
Home entertainment systems
Automotive music systems designed for the interior acoustics of each car model (first introduced by Bose)
Noise reducing headsets for pilots and the public (first introduced by Bose)
Sound in public spaces
The production of sound for musicians requiring electronic amplification of their instruments
Materials testing and durability simulation instruments for biomedical, industrial and commercial applications
Driver suspension systems for heavy-duty trucks
# # #