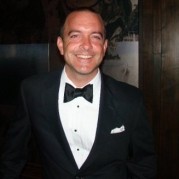 I joined the company because I see the explosive opportunity presented by mobile and am excited to lead Thumb Friendly in the market by arming our sales force and partners with the technology and tools they need to be successful
Atlanta, GA (PRWEB) August 31, 2012
Thumb Friendly, the leader in helping local businesses and national brands acquire new customers with powerful mobile marketing strategies, today announced the appointment of James Smith as Chief Revenue Officer, effective immediately. Smith brings over 15 years of online marketing experience, working for industry leaders and building high performance sales organizations designed to help SMBs and National Brands market successfully in the digital age.
From September 2007 to June 2012, James served as Area Director for ReachLocal, building the largest sales operation in North America. Prior to ReachLocal, James spent nine years with Citysearch, an operating business of IAC as Director of Sales - Southern United States, where he built and supported the #1 region in the company.
Andrew Katz, CEO of Thumb Friendly stated, "James Smith is a seasoned, extremely well-connected veteran with tremendous track records of producing breakthrough results. James joins us after more than 15 very successful years at ReachLocal and IAC. With James's strong background and proven leadership helping companies accelerate revenue gains, I am confident that we are well positioned to sustain our current growth trajectory."
As Chief Revenue Officer, Smith will oversee the company's sales, marketing and product management teams. His charter is to design and execute the company's go to market strategy, product definition, marketing, customer relationships and sales execution. He will ensure the entire organization has the direction, information, resources, and support needed to increase revenue, as well as serve and retain the company's most valued assets—its customers and its employees.
"With Thumb Friendly's robust platform, cutting-edge products, and industry-recognized leadership within the mobile sector, we are uniquely positioned for rapid growth and continuing market share gains," said Smith. "I joined the company because I see the explosive opportunity presented by mobile and am excited to lead Thumb Friendly in the market by arming our sales force and partners with the technology and tools they need to be successful."
About Thumb Friendly:
Thumb-Friendly helps businesses acquire new customers with powerful mobile marketing strategies and tools. With access at their fingertips, the mobile consumer is ready to learn, engage, and buy. Thumb-Friendly's m360 Strategy is a complete advertising and client management solution designed to drive, convert, and retain consumers, while delivering a superior experience for the end user.