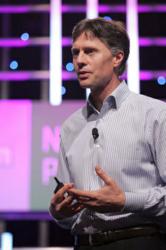 The impetus in corporate America should be focused 70% towards leadership and 30% towards management
Seattle, WA (PRWEB) August 31, 2012
In difficult economic times businesses are forced to re-examine how they operate, resulting in tough, even painful, organizational decisions. Rethinking one's operation can therefore either be approached as an inconvenience or as an opportunity.
In his speeches and on his new change leadership web page, change leadership speaker, Tom Flick, argues that seeing it as the latter is the most important aspect for successful change management strategies. Cultivating leadership on every level of an organization is what allows this to occur. Understanding the fundamental difference between change management and change leadership is fundamental to understanding Flick's message.
Tom Flick's seminars and books try to put business firmly in the context of competition as opportunity. As a college quarterback and NCAA Rosebowl champion, its easy to see where his views originate. This puts him in the unique position of having intimate knowledge of how organizational success is really brought about. Unexpectedly, his views on leadership celebrate collectivity over a more traditional top-down method and forms the major distinction between change management and change leadership.
Flick is an adherent to the insights of Harvard Professor and leadership guru Dr. John Kotter, whose bestselling book, Leading Change, champions leadership as "the name of the game." Kotter's groundbreaking ideas on organizational change assert that "the impetus in corporate America should be focused 70% towards leadership and 30% towards management." For him, cultivating leadership on all levels is essential to organizational success.
Change Management
Change management has become a useful HR tool for companies trying to navigate through difficult organizational realignment. Getting members of a company, on multiple levels, to buy in to changes can be extremely difficult. Changing habits for the benefit of the company can be a tough sell when it is implemented sloppily, alienating its workers by disrupting their routines without establishing a purpose. Managing this change is important for avoiding hazards while problem solving budgeting, staffing and regulation issues. Change management is indeed a vital organizational tool, but is somewhat misguided in its spirit and implementation.
Change Leadership
Focusing on Dr. Kotter's groundbreaking work on the importance of leadership, Flick encourages a mentality of "moving forward." Going so far as to implicate Western Educational systems as encouraging stagnation by developing "managerial mindsets", Flick sees management as maintaining the status quo. This puts at odds the ideas of change and management, leading to organizational confusion when change becomes necessary. That is why Tom Flick speaks so passionately about teaching and emphasizing leadership. Leadership, in his words, "motivates action and removes barriers...taking you where you want to go."