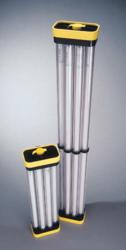 You want to see how durable the Quad Light is? Watch Joe kick it down the stairs, and then jump on it!
Hamburg, NY (PRWEB) August 31, 2012
KH Quad Lights are industrial grade portable lights that are used by large scale, global companies and organizations. With the additional electrical output options of 220 Volt, 50-60Hz, the Quad Light can be used world wide." states John Herc, vice president of KH Industries.
Standard electrical configuration of the Quad Light is 120 Volt / 60Hz.. Now they can be accommodate electricity currents around the world with a range of 120-277 Volt, 50-60Hz..
KH Industries' Quad Light is portable, industrial grade light that is designed to resist breakage through the use of shatter resistant polycarbonate tubeshields, an aluminum backbone that provides structural support, rubber end caps that stay intact during drops and falls, and lamp shock absorbers.
K&H's design of the Quad Light incorporates several unique features that allow it to stay intact and keep working in extremely harsh environments, including high impact situations. Watch KH's demonstration video of Joe Halas, Regional Sales Manager, kicking it down the stairs!

Proprietary K&H designed lamp shock absorbers keeps the bulbs stable in the event the Quad Light is dropped or impacted.
The fluorescent bulbs have a laminate coating that contains the glass in the event breakage does occur. This keeps any cracked glass, powder, and mercury safely contained and allows easy clean up.
The tubeshields are made from shatter-resistant polycarbonate.
The aluminum backbone of the light provides structural support.
Rubber end caps stay intact during accidental drops and falls.
In addition to its durability, the Quad Light offers an output of either 5,200 lumens/68 Watts or 11,800 lumens/128 Watts.
Quad Lights can be daisy chained together for feed thru lighting, or used as a stand-alone portable fluorescent light.
KH Quad Lights are cUL approved and are made in the United States.
To learn more: Call: 716-312-0088 or email: info(at)khindustries(dot)com
KH Industries is USA leading manufacturer of portable lighting and temporary power solutions for the military, utility, aviation, fleet, construction, manufacturing, chemical, petroleum and marine industries.