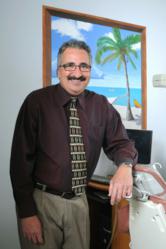 Monroe, CT (PRWEB) August 30, 2012
Dr. Richard Amato wants to diagnose oral cancer as early as possible. Research shows that on the average, one person in the United States dies from oral cancer once per hour every day. However, with early detection, the survival rate is between 80 and 90 percent. Because oral cancer can be difficult to detect with the naked eye, using the Velscope is an important part of determining the dental health of patients.
Oral cancer can be located in the lips, mouth or throat and has a high cure rate when diagnosed early and treated promptly. While dental professionals are trained to look for cancer of the mouth during a patient's regular checkup, the symptoms are often not visible. It is estimated that more than 36,000 people in this country alone will be diagnosed with oral cancer this year. It is estimated that within five years, only about half of those diagnosed this year will still be living.
There is no differentiation between gender and no specific age group targeted when it comes to oral cancer, because it can affect anyone at any time. Those who drink alcohol or are heavy smokers are at a higher risk than the general population. It is estimated that only about 35 percent of oral cancer cases are early diagnoses, which is why more and more periodontists are employing the Velscope in their practices.
The Velscope utilizes a non-invasive, blue light that uses fluorescent technology, similar to that used in a Colonoscopy, to emphasize the difference between tissue in the mouth that is normal and tissue that is abnormal. The special lens allows Dr. Amato to view changes that are several layers deep, which means an earlier detection. If abnormalities show up on the Velscope, further tests can be run to determine whether the patient has cancer of the mouth. If you are concerned about your dental health, or want to learn more about oral cancer and the use of the Velscope, please visit http://www.connecticutperiodontist.com.
Dr. Richard Amato is a periodontist offering patients personalized dental care for Monroe, Connecticut. Dr. Amato received his Doctorate of Dental Surgery degree from Stony Brook University where he was awarded the School of Dental Medicine Department of Periodontics Award for Excellence in Periodontology. Dr. Amato completed a specialty post-doctoral residency and received his Certificate of Proficiency in Periodontics from Eastman Dental Center at the University of Rochester. He is part of one percent of dental professionals providing the most recent FDA cleared laser procedure for gum disease and periodontal treatment. To learn more about Dr. Amato and his dental services visit his website at http://www.connecticutperiodontist.com and call (203) 712-0917.