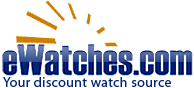 Hollywood, FL (PRWEB) August 30, 2012
eWatches, a leading internet retailer of discount designer watches, announced today the successful launch of a pricing program that extends wholesale pricing on its discount watches sitewide to the general public without having to purchase in bulk.
The brainchild of eWatches CEO Izac Ben-Shmuel, the program runs from 12 pm – 3 pm ET daily, and marks the most extreme discounts the company has taken since its inception. The company is enjoying resounding appreciation from customers, who routinely make multiple purchases during through the program, named "Wholesale Pricing Unlocked."
"There were plenty of naysayers who thought we were crazy to launch such a daring pricing program," said Ben-Shmuel. "They thought we would be cannibalizing our other marketing efforts and sales by discounting our watches so deeply for Wholesale Pricing Unlocked, but the fact of the matter is that exactly the opposite happened," he continued. "We get a great spike in sales during those hours, but our other efforts have not missed a beat and have in fact been performing more robustly."
eWatches recently went through a redesign during which graphics and usability were enhanced, which could possibly contribute to the overall success of the company's combined efforts. "I think a combination of the site redesign, the extremely bold Wholesale Pricing Unlocked program launching, and a greater infusion of new designer watches is the reason for the uptick in sales," said Russell Ackner, VP of Marketing, The SWI Group. "Not to mention our steadfast commitment to our customers through stellar customer service," he continued.
Wholesale Unlocked pricing is available on thousands of discount designer watches for men and women at eWatches from brands like Swiss Legend, Lucien Piccard, Stuhrling, Invicta, Glam Rock and more. Customers are urged to check back daily as new discount watches are added to the eWatches inventory every day.
To learn more, visit eWatches
About eWatches:
eWatches.com is an award-winning internet retailer of brand-name watches serving tens of thousands of satisfied customers since the company's inception in 2003. In both 2007 and 2008, Inc. Magazine selected eWatches.com as one of 'America's 500 Fastest Growing Companies' in its annual Inc. 500 list. eWatches provides a superior shopping experience to its customers with:

Free Shipping on all domestic orders
100% Satisfaction Guarantee
Low Price Guarantee
30 Day Money Back Guarantee
To get the 411 follow eWatches on Facebook and Twitter at 'ewatchescom'.