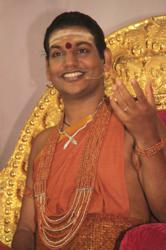 Enlightened Lifestyle is what I am preaching. Let your Life flow like Enlightened Life Style
suddenly Enlightenment will be there to greet you
Los Angeles, CA (PRWEB) August 30, 2012
His Holiness Paramahamsa Nithyananda spontaneously declared to his worldwide followers, that all his disciples across the world must start practicing the grace of forgiving and moving ahead as a sacred commandment, and also use it as a technique to expand themselves and ultimately achieve spiritual enlightenment.
He explained, "Each one of us experiences moments in life where we sacrifice very big things even for neighbors or friends, just out of love. The same way, there are moments when we fight selfishly for very silly things. If we just see which moments make us feel at ease with ourselves and closest to our true self, it is always the graceful moments of giving up and moving ahead."
This grace of giving up needs to be practiced again and again, till it becomes a solid experience in our life. When we start this practice, our survival need is sure to come up and try to stop us. At such times, till we become strong to handle the old patterns, we need a fence to protect us. It is similar to how even a grazing goat can destroy a sapling that is not protected by a fence, and destroy its chances of becoming a full-grown fruit-bearing tree - but once the sapling grows into a tree, even an elephant cannot uproot it! Just like how a growing sapling needs to be fenced with protection, anyone who sets out to realize the grace of giving up should be supported until the practice becomes part of their bio-memory. One has to constantly assert oneself and remember this grace again and again to protect the practice and action of moving ahead.
"Once perfected, it becomes a lifestyle. Even during practice, one will radiate such intense grace that these will be the best moments of one's life. I don't even want to use the word 'giving up'; instead, I would use the word 'moving ahead," he said.
Paramahamsa Nithyananda expressed his vision of providing such a protective fence for thousands all over the world, to inspire them to practice this and other spiritual disciplines for one's enlightenment and service to the community, society and the planet earth. Such a space will help people work on maximizing their potential without having to worry about basic survival needs during the period of practice. He said that the Vedic temples and ashrams (monasteries) he has created worldwide will serve as fences of protection for his disciples to practice giving up and forgiving and moving ahead gracefully. This single technique is sufficient to lead one to union with the Divine consciousness, he said, quoting Lord Krishna's teaching to his disciple Arjuna in Chapter 6 of the Bhagavad Gita.
Paramahamsa Nithyananda reiterated the importance of achieving this state before achieving success and attracting wealth in the world, so that the possible loss of these will not touch one's inner space. He also expressed the need for practicing and radiating the grace of unconditionally helping others in their time of need. When one attends selflessly to the needs of another, one's own patterns of laziness and resistance are naturally broken, he pointed out.
All of us carry some past wounds in our heart, but the important thing is to learn to move ahead gracefully. When one is under the grace and protection of an enlightened Master,anything is give-able and forgivable. "Remember constantly your most beautiful moments of giving and forgiving, and establish yourself in those beautiful moments. That is Life."
During the 2012 Awakening world tour this November, Paramahamsa Nithyananda will share the secrets of harnessing these powerful energies for material and spiritual abundance. Through a series of life-transforming talks and initiations that trigger a conscious shift in each individual, Paramahamsa Nithyananda empowers us to connect to the source of our highest potential energy. The benefits are experienced in the form of physical and emotional healing, greater abundance, higher creativity, more meaningful relationships, faster manifestation of desires, rapid clearing of negative patterns and quantum spiritual growth.
As part of his 2012 Awakening world tour, Paramahamsa Nithyananda will be conducting programs in several major cities across the globe, including Turkey, UK, France, Spain, Guadelope, Mexico, Germany, Canada, among others. With interactive sessions, mind-body healing techniques, powerful energy initiations and the 2012-intensive reading of Akashic Records, a day with Paramahamsa Nithyananda promises to open the door to a world of transformation for you.
More details on the 2012 Awakening world tour and the Transformational Program Details will be released in the next few days.
For earlier talks on the phenomenon of 2012 by Paramahamsa Nithyananda on videos:
2012 Transform Now: http://www.youtube.com/watch?v=YdH8UvFvDQ0&feature=plcp
2012: Truth, not Just Prophecy by Nithyananda: http://www.youtube.com/watch?v=5O68SCfXgBo&feature=plcp
Science of Enlightenment: http://www.youtube.com/watch?v=ty1DtDKt-08&feature=plcp
Retrieving Akaschic Records: http://www.youtube.com/watch?v=zZFlPwoUULE&feature=plcp
Genetics of Initiation: http://www.youtube.com/watch?v=gz5lMJfnX-E&feature=plcp