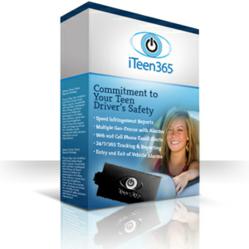 iTeen365 is professionally installed under the car's dash. Savvy teen's are unable to unplug, turn off, or disable the device.
Chicago, IL (PRWEB) August 31, 2012
As teens head back to school it can mean more time behind the wheel driving to class, after school activities and jobs. With speeding as the leading cause of preventable deaths among teens, iTeen365 is helping parents keep an eye on their teens driving behavior when they can't be with them. During the month of September, parents can purchase the GPS-based vehicle monitoring device for free and receive 50% off the one-time activation fee with a 2-year service agreement ($34.95).
A report from the Insurance Institute for Highway Safety advises that novice driver's benefit from devices that monitor driving behavior and can provide warnings or reminders about risky driving in real time. Combined with a Parent Teen Driving Contract, iTeen365 is meant to be a powerful and effective teaching tool that helps inexperienced teen drivers navigate through the most dangerous first years on the road. The system is designed to encourage parents and teens to sit down and review the teens driving history in an effort to facilitate positive discussion about better driving habits.
iTrack365, the makers of iTeen365, has partnered with one of the world's leading provider of telematics to deliver the easiest, most reliable way for parents to monitor their teen's driving behavior. With back-to-school events, fall festivities and winter driving conditions just around the corner, this is a great time to install iTeen365.
How is it installed?
After purchase, iTrack365 will coordinate for convenient installation of iTeen365 via a local authorized installation technician. The device is professionally installed under the car's dash – making it virtually tamper proof. Savvy teens are unable to unplug, turn off or disable the device.
How does it work?
Once installed, this compact device allows parents to track their teen's vehicle information online. In addition to the instant email notifications when a teen is speeding, the features of iTeen365's online tracking system include: showing the vehicle in real time on Google Maps; reporting speed and vehicle direction; displaying the "Bread Crumb" trail of where a vehicle has been (up to 4 months); sending email notifications for unapproved movement of the vehicle and when the vehicle has entered a specific location, exited a specific location; speeding infringement reports; and much more.
For a limited time only, purchase iTeen365 for free and receive 50% off the one-time activation fee, $25 ($50 value) with a 2-year service agreement ($34.95 per month).
Click here to download a free copy of iTeen365's white paper "The Truth Behind Your Teen's Texting and Driving" to learn how parents of teen drivers can address the hazards of texting behind the wheel.
About iTrack365, Inc.:
iTrack365 has partnered with one of the world's leading providers of telematics to offer a complete range of web-based GPS vehicle tracking and GPS fleet management solutions. Currently available in over 30 countries worldwide, the iTrack365 suite includes: iTeen365, iSenior365, iSpouse365, iFleet365, and iLease365. With advanced technologies, its own full end-to-end solution capabilities from the design of the hardware and software, to the web based hosting solution, iTrack365 has made this a convenient, user-friendly application for both individuals and companies of any size. For more information: http://www.iteen365.com / 866-900-2464