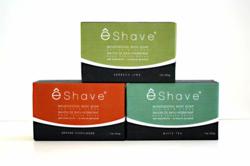 eShave's new bath soap bars compliment the brands award-winning shaving collections offering guys a complete body care solution.
New York, NY (PRWEB) August 30, 2012
Renowned for its contemporary products and accessories that combine luxury, modern aesthetics and quality with expert knowledge and craftsmanship, eShave has revolutionized the way men have been shaving since 1996. Today, the brand is excited to add to its award-winning product offering with a new line of bath soap bars boasting a masculine appeal available in Orange Sandalwood, Verbena Lime, and White Tea scents. This is eShave's first venture into the bath and body care category and this new launch will serve as a stepping stone for the brands product expansion plan.
"We are so excited about this new line and our team has been working tirelessly to ensure that each soap meets our highest standards," said Danielle Malka, President/Founder of eShave. "These divine new bath soaps compliment our shaving collections offering guys a complete body care solution. Skin will be left looking and feeling its absolute best."
Made exclusively in Provence—the soap-making mecca of the world—eShave's new bath soap bars are triple-milled with an extra-rich vegetable base for a superb lather and formulated with skin nourishing Shea Butter to remove sweat and dirt, without stripping away the natural oils that keep skin healthy.
Keeping to its commitment of providing only the highest-quality product, eShave's new bath soap bars for men are clean and pure, free of animal ingredients, preservatives, SLS, SLES and harmful Parabens. The soaps gently yet effectively cleanse, while leaving skin feeling moisturized, soft and lightly scented.
The new bath soap bars are available in three modern scents:
Orange Sandalwood: The manliest scent yet, this exquisite bar is an infusion of exotic botanicals delivering powerful therapeutic properties to rejuvenate, balance and tone the skin. The Orange Sandalwood Bar offers a fresh, clean scent to lift the spirits and boost one's confidence, one day at a time.
Verbena Lime: Bursting with the stimulating properties of Lime and the soothing attributes of Verbena, this bar is the epitome of freshness. Skin will feel invigorated, rejuvenated and refreshed after every use.
White Tea: Bar none, this is the ideal protection against the elements. Delivering potent skin-healing, anti-aging antioxidants with a "Zen-like" scent that is subtle and calming. Skin will feel toned, moisturized, and masculine.
Retail: $15 (7oz)
The new bath soap bars will hit shelves starting in October 2012 and will be available at select spas and retailers nationwide, including eShave New York, and online at: http://www.eShave.com
About eShave:
Since 1996, eShave has been "All A Man Needs for the best shave Ever." Specializing in the finest quality grooming products and accessories, all of which are handmade in New York City, êShave brings a modern touch to the most traditional way of shaving. The award-winning brand is recognized around the globe for delivering the smoothest shave possible free from razor burn, shaving-related bumps and irritation, ingrown hairs, and the 5 o'clock shadow.
eShave products are available online at http://www.eShave.com, eShave New York boutiques at Rockefeller Center and World Financial Center, and in select upscale retailers/spas worldwide. 1-800-94-SHAVE / info (at) eShave (dot) com
Media Contact: Shelly Cellak | shelly (at) burgeonagency (dot) com | 773.398.6154