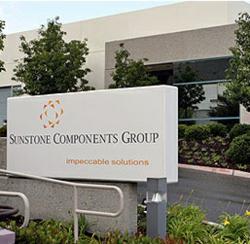 "This is the result of a quality consciousness that pervades all of our team members and the hard work that they put in day after day to manufacture flawless products."
Temecula, CA (PRWEB) August 30, 2012
Highly regarded California based manufacturer of precision components for automotive and medical devices Sunstone Components Group has recently achieved the ISO/TS 16949:2009 certification for the 15th consecutive year. The company manufactures various insert molded components and precision metal stampings that are used in mission critical applications and require an extremely high degree of precision. Apart from automotive and medical, the highly reliable products from Sunstone Components Group have also been used for more than three decades in telecommunications, heavy machinery, and consumer electronics industries. Sunstone MIE (Molding International and Engineering) and Sunstone S3 (Solid State Stamping), the two divisions of the company, are the world's leading and highest quality manufacturers of a wide range of insert molded components, compliant pins, leadframes, and electronic connectors.
Sunstone's products are used in mission critical devices, where product failure is not an option, such as air bag pressure sensors, fuel systems and cardiac catheters.
ISO/TS 16949 is a technical specification that targets developing a quality management system based on defect prevention, continuous improvement, and minimization of process waste and variation. This certification process is based on ISO 9001 and is considered to be the mark of a quality process for production, development, design, servicing and installation of different products related to the automotive industry. The requirements of this certification apply throughout the supply chain, too. The ISO/TS 16949 certification achieved by Sunstone Components Group applies to all divisions of the company including Sunstone Advantage, a minority business which sells the products of Sunstone MIE and Sunstone S3.
Gumption, vibrancy, teamwork, and integrity are some of the core values that have made Sunstone Components Group a pioneer in their field. Talking about achieving the ISO/TS 16949 certification yet again, as well as Sunstone achieving zero defects for the first eight months of 2012, the CEO of the company Brad Adams said, " This is the result of a quality consciousness that pervades all of our team members and the hard work that they put in day after day to manufacture flawless products." He also emphasized that, despite the exemplary quality record of the company, Sunstone Components Group was committed to continuously improving its processes and systems.