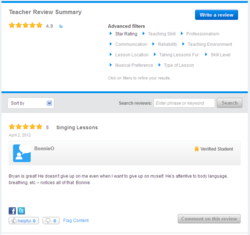 Consumers depend on reviews to make purchasing decisions
San Diego, CA (PRWEB) August 30, 2012
TakeLessons (http://takelessons.com), America's leading provider of full-service music and singing lessons, has announced the launch of TakeLessons reviews, a platform that will allow students to rate and review their music teacher and TakeLessons experience right on the TakeLessons website.
Features of the platform include the ability to write a review on any teacher's profile page, student verification, reviewer pictures and comments, social sharing and much, much more.
"Consumers depend on reviews to make purchasing decisions," says Alan Cole, Chief Revenue Officer at TakeLessons. "With TakeLessons reviews, we're giving students the resources they need to make informed and confident decisions about their music education. After all, who better to share their insights than the students who are already working with our amazing teachers?
Choosing the right music teacher is crucial to the motivation and success of the student, and we're committed to giving our students everything they need to make those decisions easier."
About TakeLessons
Headquartered in San Diego, CA, TakeLessons is the fastest-growing nationwide music and voice lessons provider. Founded in 2006, we help students of all ages pursue their passions and develop their talents through music. TakeLessons offers private lessons in over 2,800 cities nationwide, including guitar, voice, piano, drums and violin lessons. For more information, visit http://takelessons.com/, or call 800-252-1508.