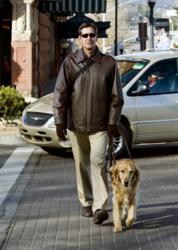 San Diego, CA (PRWEB) August 31, 2012
Petco™ and Natural Balance Pet Foods® have joined forces once again to celebrate National Service Dog Month in September with a fundraiser on behalf of U.S. organizations that support and/or train service dogs. The annual fundraiser has always supported guide dogs, but this year in addition to guide dogs, it will also raise funds on behalf of all service dogs including Military Working Dogs and the country's first ever national monument honoring Military Working Dogs.
"Guide dogs and Military Working Dogs are heroes, providing safe mobility, loving companionship and restoring confidence to their handlers. At least 10 million Americans live with vision loss and guide dogs are their precious lifelines to the world. Military Working Dogs support the war on terror, safeguard military bases and activities, and detect explosives before they inflict harm," said Dick Van Patten of Natural Balance Pet Foods. "This year, we hope to raise $1 million to help these incredible guide dogs and Military Working Dogs for their important work."
This is the first time in U.S. history that the U.S. Congress has elevated an animal, a dog, to national monument status by law, and both Natural Balance and Petco have been strong supporters of this initiative since the beginning. The National Monument, which will be dedicated in 2013, will feature a current day combat dog and its handler. The monument will reside at the 341st Training Squadron at Lackland Air Force Base in San Antonio, Texas. All proceeds from the sale of 12 oz. Limited Edition Natural Balance Jerky Bars Treats at Petco will be donated to fund this national monument honoring Military Working Dogs.
From Sept. 2 – Sept. 22, 2012, contributions can be made at any Petco or Unleashed by Petco store or online at http://www.petco.com with all funds going to service dog organizations. . In addition, proceeds from the purchase of 12 oz. Limited Edition Natural Balance Jerky Bars Treats at Petco will benefit the service dog monument at Lackland Air Force Base. For more information visit http://www.petco.com.
In addition, Petco and Natural Balance are proud to support the Canine Members of the Armed Forces Act, which is currently in the early stages of legislation. The Act is sponsored by Sen. Richard Blumenthal and supported by the ASPCA, Military Working Dog Adoptions, Natural Balance and Petco. The act would classify Military Working Dogs as canine members of the Armed Forces instead of equipment. The act would also extend certain benefits to retired Military Working Dogs, including the creation of a military decoration to be awarded to Military Working Dogs killed in action or perform especially courageous acts while in service to the United States. To read about the Canine Members of the Armed Forces Act please visit: http://www.govtrack.us/congress/bills/112/s2134
To view a PSA from Dick Van Patten visit:
YouTube: http://youtu.be/MwT79cIqI1o
About Dick Van Patten's Natural Balance Pet Foods®
Based in Pacoima, California, Natural Balance® was founded by Dick Van Patten and Joey Herrick in 1989 on the philosophy of providing pets and their owners The Food For a Lifetime™. All Natural Balance products are free from artificial flavors, colors and bleached ingredients, and are used and respected worldwide by top trainers, breeders and caring pet owners who want the best for their animals. In addition to its more than 50 dog and cat food varieties, the Natural Balance product catalog includes several Zoological Formulas™, which are currently fed to carnivores, bird of prey and reptile populations in some of the most prestigious zoos and animal reserves across the country.
For more information about Natural Balance, its Buy With Confidence™ program and its unique product line, please visit http://www.naturalbalanceinc.com.
About Petco
Petco is a leading pet specialty retailer that provides the products, services and advice that make it easier for our customers to be great pet parents. Everything we do is guided by our vision for Healthier Pets. Happier People. Better World. We operate more than 1,100 stores nationwide, including more than 30 Unleashed by Petco locations, a smaller format neighborhood shop, and http://www.petco.com. The Petco Foundation, an independent nonprofit organization, has raised more than $90 million since it was created in 1999 to help promote and improve the welfare of companion animals. In conjunction with the Foundation, we work with and support approximately 7,500 local animal welfare groups across the country to help find homes for more than 250,000 animals through in-store adoption events every year.
###