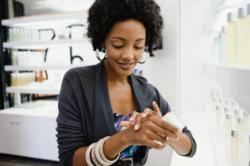 The most practical way to protect skin is the use of sunscreen. The biggest problem though is it doesn't get used enough.
(PRWEB) August 31, 2012
Skin Laboratory recognizes hurricane Isaac as the end to summer. Continued skin protection is advised.
The Fall equinox on September 22nd will officially mark the end of summer. However, school starting and the presence hurricane Isaac ushers the end of summer fun. These changes in behavior will help protect skin from harmful UV (ultra-violet) rays, which causes skin damage. The change in seasons does not mean, however, that there is no need to continue shielding from the sun. Sun damage can cause age spots, fine lines and wrinkles, dry and damaged skin, among other skin issues.
The skin can become damaged from the sun during any season, or from other sources such as smoking. The best way to get beautiful, healthy skin is to prevent skin damage, repair former damage, and to maintain a healthy lifestyle.
The most practical way to protect skin is the use of sunscreen. The biggest problem though is it doesn't get used enough. If it's not worn, it's not working. SPF (sun protection factor) is critical for skin care and should be worn anytime the skin is exposed to the sun or other harmful UV sources (tanning beds or reflected UV rays). New formulas of sunscreen can be worn with makeup, and some cosmetic products provide lower SPF. Guarding the skin is easy and should be done to keep skin healthy.
Many sunblocks insulate against UV rays, but it's important to use one that works on a broad spectrum. These will protect against both UVA and UVB. UVB is higher energy and more responsible for sunburn. It comprises about 5% of UV light. Conversely, UVA penetrates deeper into the skin and causes more skin damage, but less burning. Follow the link for more information on sunscreen.
Despite the best efforts, it's near impossible to avoid all types of skin damage. Sun spots, age spots, thick and tougher skin, dry skin, wrinkles, blotches and discoloration can all be results of skin damage.
The normal response of UV exposure is for melanocytes to produce melanin, which causes skin tanning and absorbs the deeper penetrating UVA rays. With time and repeated exposure to UVA rays, some melanocytes can become overactive, causing localized brown spots known as age spots.
Age spots are not harmful in any way. They are generally considered aesthetically unpleasing. Age spots are sometimes mistaken for skin cancer. Getting rid of them can help keep track of spots of serious concern.
When a chemical peel removes age spots it works by increasing the rate at which the skin exfoliates. As the old skin layers are removed, new ones begin to grow. While the old layer of skin is peeled away the age spot can disappear with it.
With time, the skin ages. The natural aging process, along with environmental factors, break down the collagen and elastin in the skin. In their 30s, a person's skin begins to thin. These two factors cause fine lines and wrinkles to begin to appear.
Fine lines can be treated with chemical peels. Stimulation from the peels agitate the collagen and elastin. The body's response is to rebuild more of each. Skin cell production also begins to increase, making the skin thicker. The increase in thickness and elasticity of the skin restores it's composition to a more youthful state. The end effect is tighter skin with fewer fine lines.
Fortunately most skin damage is not permanent. It's better to rejuvenate the skin quickly, as soon after the damage as possible.
Chemical peels do an excellent job making the skin appear young and vibrant. They remove signs of aging and can get rid of acne, along with a large number of other benefits. With time chemical peel use increases cell turn-over, like when the skin was younger! They do this by sloughing off the top layers of skin and allow new skin cells to take their place.
Three common peels are: Glycolic Acid Peel, Salicylic Acid Peel, and Lactic Acid Peel. Lactic acid in particular is great for treating dry skin, pigmentation issues, and reducing wrinkles. Lactic acid also works to restore the texture of the skin, pulling moisture into the actual skin cells. These combined effects restore the skin's natural glow.
The use of a light chemical peel can be done at home. Unlike other more intense treatments, it requires no downtime. Before and after use it's important to protect the skin as it is more sensitive. Sun exposure will do more damage while it is in a weakened state. This only lasts a few days though. During that time it's critical to use a high SPF sunscreen frequently, avoid the sun at all times, and generally take good care of the skin by using a moisturizer regularly.
Again, even though the seasons are changing, and there will be more cloud coverage in the Fall; it's important to protect the skin during each of the four seasons. Clouds only block out about 10% of UV rays. Tropical storm Isaac will only help skin because people will be spending less time outdoors, avoiding the rain. This isn't all bad though, as it makes for a great time to try an at home chemical peel.
About Skin Laboratory
Skin Laboratory manufactures a line of aggressive, results oriented products with specific protocols that target all skin types and improve a variety of skin conditions. Savvy consumers, who are no longer willing to age gracefully, are demanding solutions to maintaining a youthful looking appearance and many of these consumers are finding solutions with Skin Laboratory products.