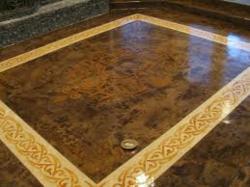 Plano, TX (PRWEB) August 31, 2012
Plano Concrete Flooring is offering a unique, decorative concrete finishing system to homes and businesses in and around the Dallas and Plano areas. The system, called SkimStone, is a two-component, trowel applied cementitious decorative coating for existing concrete surfaces including floors and countertops.
The acrylic based Type I Solution is tinted using SkimStone ColorPaks, which can be added at varying strengths or combined to produce colors. The tinted Type I Solution is mixed with SkimStone White Powder to achieve the recommended viscosity. A basic three-coat application of thin layers produces a unique textured appearance. SkimStone is sealed with SkimStone Protective Sealer, a 100% urethane waterborne sealer.
Using this versatile system, it's possible to create thousands of custom looks by mixing and combining colors and application techniques. SkimStone is used for both indoor and outdoor surfaces to update and complement any area. Plano Concrete Flooring consults with each of their clients to ensure the best possible decorative concrete solution for their specific needs.
Plano Concrete Flooring also offers a variety of other decorative concrete services around Dallas, TX, including polished, stamped and stained concrete, epoxy flooring, vertical overlays, concrete stenciling and concrete repair. They've been providing decorative concrete services in North Texas for the past ten years, and have earned an A+ industry rating. Their dedication to customer service and quality craftsmanship is apparent in each decorative concrete project they complete. For more information on Plano Concrete Flooring's services, including SkimStone decorative concrete finishing, please visit them online.