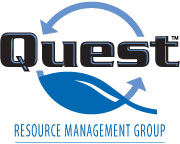 Frisco, TX (PRWEB) August 30, 2012
Sandra Heffernan, Quest's sustainability director of sales, will be a keynote speaker at the Temple Chamber of Commerce offices on September 19th 2012.
Sandra will cover important topics such as what is the scope of the Sustainability movement and its impact on city governments, corporations, and hospitals. In addition, she will cover the importance of creating baselines for water, electricity, and waste diversion and demonstrate the synergies between waste streams management and sustainability for corporate environmental responsibility. Finally, Sandra will answer important questions such as Where do I start? Who is the current force behind sustainability? How do I track and manage my sustainability programs?
Reflecting on the event, Sandra said "It is my honor to be invited by Tanya Gray, the executive director of Keep Temple Beautiful, to speak to the leaders in the Temple area about sustainability. In today's business climate sustainability is at the forefront of most corporations, large and small, as well as city municipalities. Having growing up in Temple, I am especially excited about seeing everyone and sharing my "green" experiences with all of you."
About Quest
Quest Resource Management is a full service environmental consulting and management company, headquartered in Frisco, Texas. Quest helps Fortune 500 companies to maximize profits and mitigate risks, while minimizing their ecological footprints. Quest clients span across all key industry segments, including food services, hospitality, healthcare, manufacturing, construction, automotive aftermarket and fleet industries. Quest Resource Management Group provides North American clients with comprehensive sustainability programs, innovative recycling solutions and proven environmental protection.
Quest prides itself in delivering targeted solutions exclusively tailored to the needs of each respective client. Quest also offers Return on Investment (ROI) and Return on Sustainability (ROS) based road maps to help clients design actionable programs for managing RFPs, defining operational protocols, creating and implementing training programs, and defining best practices. Quest's Sustainability Intelligence Dashboard helps clients improve decision making by extracting greater insights through unsurpassed business intelligence.