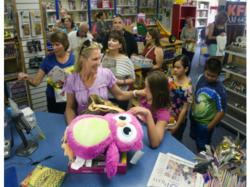 It was chaotic, but I think everyone had a great time and just gave life to our store.
Swansea, IL (PRWEB) August 31, 2012
The "Making Change" award recognizes individuals who have successfully and creatively held a cash mob within a local community. CashMob.com acknowledges KFI and Bill Handel on their successful mob at Toy Boat Toy Boat Toy Boat, a toy store located in Corona del Mar, California. Bill Handel, radio personality for KFI, host of "Handel of the Law" and past guest host for the well-known "The Rush Limbaugh Show" knew that the success of this mob would be all about the support of the KFI listeners.
Toy Boat Toy Boat Toy Boat was a well-deserving recipient for KFI's first cash mob. The business recently was forced to close three other stores and was behind in rent. Without the success of this cash mob and help from members of the community, the store was facing the possibility of closing its doors for good. KFI excelled with its outreach by informing all of its radio listeners, an audience over 1 million people, about the mob. Listeners were notified about the location of the event and were also given live updates from a broadcasting at the store. "KFI's cash mob of nearly 400 people showed that it takes support from the entire community for a local business to survive," said Suzanne Obszanski, Director of Marketing and Promotion for CashMob.com.
KFI has successfully completed its first cash mob and is already organizing more with the help of listener's suggestions. "With 8 radio locations near the Los Angeles area, we are planning for each station to hold its own cash mob for a well-deserving, small business," says Bill Handel. Toy Boat Toy Boat Toy Boat has been able to keep its doors open because of the KFI cash mob and the success it continues to bring. Lori Curtain, owner of Toy Boat Toy Boat Toy Boat noted, "It was chaotic, but I think everyone had a great time and just gave life to our store."
CashMob.com is honored to present the August "Making Change" award to Bill Handel and KFI and looks forward to what mobs and community involvement they will bring in the future.
About CashMob.com:
CashMob.com is a leading promotions and marketing portal that allows users to find cash mobs around them while also learning about the growing phenomenon. Through their outreach, CashMob.com strives to unite members of the community and ultimately help local businesses find financial relief during the economic downturn. For more information visit CashMob.com.