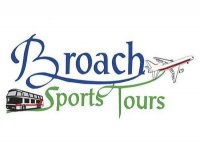 This is the first Grand Slam of the year and is the hidden gem of the four Grand Slam tournaments.
Charlotte, NC (PRWEB) August 30, 2012
Broach Sports Tours is offering its most extensive and elaborate tennis package ever to the 2013 Australian Open, president Tom Broach has announced.
The 14-day excursion, starting in Los Angeles on Jan. 13 running through Jan. 26, 2013, includes five days of tennis in Melbourne plus visits to the Great Barrier Reef, Sydney and Auckland, New Zealand.
"We have always taken trips to the Australian Open and offered additional options such as Sydney and Auckland, but the response has been so overwhelmingly positive that we have decided to incorporate Melbourne, the Australian Open, the Great Barrier Reef, Sydney and New Zealand all into one package," said Carlos McCracken, Broach Sports Tours' director of tennis. "Of course, we can still customize specific itineraries for those who want to see more tennis or spend more time in a particular city, but we think this 14-day guided tour hits all the high notes."
McCracken will personally guide the tour.
Packages start at $6451 per person double occupancy and run to $7997 with various hotel upgrade options.
The trip leaves from Los Angeles on Sunday, Jan. 13, 2013, arriving in Melbourne on Tuesday, Jan. 15. The package includes five nights in Melbourne with the opportunity to see five sessions of the Australian Open, plus city tours, then continues on to Cairns for two nights with a cruise to the Great Barrier Reef, then continues on with two days in Sydney and two more days in Auckland.
The trip ends back in Los Angeles on Saturday, Jan. 26.
"This is the first Grand Slam of the year and is the real hidden gem of the four Grand Slam tournaments," McCracken said. "Just like Wimbledon, Roland Garros and the US Open, this is a trip and a tournament that must be experienced at least once in a tennis fan's lifetime. And what we have found is, the tennis is great but the side trips are equally as enjoyable."
Broach Sports Tours, located in Charlotte, N.C., has been a leader in the sports and group travel industry since 1995. It offers more than 30 Major League Baseball tours per year, along with tennis packages to all four Grand Slam tournaments, the Masters, the Super Bowl, the Kentucky Derby, the Daytona 500 and other top NASCAR Sprint Cup races.
For additional information, contact Melanie Hicks at 1-800-849-6345 or visit http://www.broachsportstours.com.