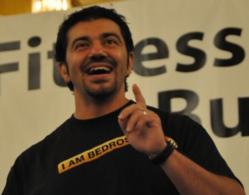 You have to think outside the box and let go of your ideas about traditional marketing in order to be successful
Chino Hills, CA (PRWEB) August 31, 2012
Keuilian changed the way that he marketed and ran his fitness boot camp because he wanted a more sustainable business and a better life/work balance. While he loved being a personal trainer, he knew that he couldn't sustain the workload indefinitely.
"As much as I loved personal training and really got into training my clients and helping them get to better health," he says, "at some point I had to stop and think about how I could maximize my income and work less hours." The answer was to change the way he thought about marketing a fitness boot camp.
According to Keuilian, the key to turning his fitness boot camp into a worldwide franchise was learning to let go of his ideas about traditional marketing and start thinking outside the box.
"Marketing a fitness boot camp is not rocket science, but it does take some thought and foresight. Certain groups of clients are simply not going to respond to an e-mail marketing campaign. Other clients are not going to be excited about a fitness marketing campaign that they get through the regular mail." Keuilian adds that diversification is essential in personal trainer marketing. "If you want to maximize your client demographics, the first step is diversifying your fitness marketing checklist."
Keuilian teaches personal trainers exactly how to do that through his website, PTPower.com, which seeks to turn personal trainers into what he calls "fitness entrepreneurs."
"I have over 50,000 trainers on my email list. And none of them opted into my list because they wanted to be better trainers. I don't teach being a better trainer. I teach being a better fitness entrepreneur."
Many first time visitors to the site are surprised to find that a lot of Keuilian's teaching is given away for free, but he remembers very well what it was like to do his personal trainer marketing on a shoestring budget and sharing what he now knows is his way of giving back to the fitness trainer community.
Throughout the site, he shares the secrets that turned his business into a multi-million dollar a year franchise and launched him into a career as marketing consultant to some of the biggest names in the fitness industry. Most of his advice focuses on getting fitness entrepreneurs to start thinking outside the box when it comes to marketing a fitness boot camp and dare to be different.
"It may sound stupidly simple – but you'd be surprised how easy it is to get sucked into the vortex of 'sameness' and forget about the importance of being unique."
###
To find out more about Bedros Keuilian, his company PTPower.com and the Fitness Boot Camp Franchise Fit Body Boot Camp, contact Bedros Keuilian at (800) 261-0208. Alternatively you may use the contact form at http://ptpower.com/contact-me/ or send an email to Bedros Keuilian at support(at)keuilian(dot)com.