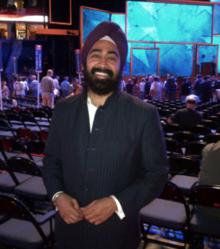 Fast forward to 2012 and we are now providing over 54 different tactics for a political campaign.
Tampa Bay, Florida (PRWEB) August 29, 2012
Over the past 12 years it would be hard to find anyone who has attended more political conventions than ElectionMall.com CEO Ravi Singh. Since founding ElectionMall.com in 2000, Singh has made it a point to not just attend the large national conventions, but also those at the state party level as well and even some third party conventions. The experience from attending state conventions in Rochester, Minnesota to those in San Francisco, California provides Singh with a unique perspective.
"Depending on the political party or location of the convention you have the chance experience the see the changing technical environment from multiple perspectives," said Singh. "While the political views or technical know-how varies, the one constant I find is the passion for politics and democracy. Of course here in Tampa this week and Charlotte next week the passion will be on full display."
First referred to as the "Campaign Guru" by Business Week during the 2004 cycle, Singh has built ElectionMall into one of the largest international political technology companies and established an exclusive relationship with Microsoft with the Campaign Cloud powered by Microsoft platform.
At this year's Republican National Convention and Democratic National Convention, ElectionMall's CEO and Founder is focusing his outlook on the digital campaigns of President Obama and Governor Romney and offers a unique perspective from his experiences managing presidential and parliamentary digital campaigns in Colombia, Brazil, Ukraine, Ireland, and most recently in Mexico.
"When I work with a lot of foreign politicians they are always in awe of the American political process," comments Singh. "Now many candidates not only want duplicate the political process, but also the digital prowess of American campaigns. Internationally, campaigns are now realizing the potential of social media, but they don't understand how to maximize their online impact and coordinate their online activities with their offline activities."
Singh and ElectionMall have maintained a constant presence at the both the Democratic and Republican Conventions since 2000 and seen lots of changes the past 12 years.
"We have come a long way since the first national convention I attended in 2000," concludes Singh. "At that time I was telling people to use email and explaining the concept of online fundraising. Fast forward to 2012 and we are now providing over 54 different tactics for a political campaign.
Singh is available for interviews to discuss the presidential campaigns' use of the technology, describe some the campaign's tactics, and offer insights on what to look for in the coming weeks. To schedule an interview please email aaron@electionmall.com or (202) 315-6436.
About ElectionMall, Inc.
Established in 1999, ElectionMall.com is a non-partisan world leader in providing on demand cloud-based solutions for campaigns and elections worldwide, effectively utilizing technology and business know how to enable candidates, advocacy groups, and nonprofits to generate enhanced gains in awareness, funds, & votes. ElectionMall.com is the exclusive partner for Microsoft in the campaigns and elections market. ElectionMall.com is headquartered in Washington, D.C, with international offices in Brussels, Bogota, Colombia and Mexico City. For more information, visit http://www.ElectionMall.com or follow on Twitter @CampaignGuru, join us on Facebook, and watch our latest videos on YouTube.