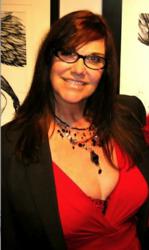 According to motivational speaker and lifestyle expert Linda Arroz, "Our clothing speaks volumes about us. If you can wear that you can be that."
Los Angeles, CA (PRWEB) August 30, 2012
Makeovers, transformations, metamorphoses; call them what you like, they are timeless. In the "Wizard of Oz," the characters all underwent makeovers before they were allowed to see the Wizard. The wizard empowered the characters by giving them each a symbolic representation of what they hoped to become. The characters needed the external reinforcement to believe in themselves. Everybody likes makeovers. Why else would major magazines like InStyle and Oprah publish annual makeover issues? These magazines, as well as a number of television shows, capitalize on our fascination with the before and after images of both celebrities and real people.
Women just want to get dressed. Today the average American woman wears a size 14 or larger, yet the messages received from the media show mostly younger women who are always thin and very attractive. This dampens enthusiasm for squeezing into the latest runway fashions. Women want to feel pretty and look good in their clothes. But often, the outcry is "I can't find it. It doesn't fit. I CAN'T WEAR THAT!"
"It's simply a matter of taking the time to think about your personal style," says former Hollywood stylist Linda Arroz, co-author with Jemi Armstrong of "Affordable Couture." Arroz gave herself a makeover and went from working as a spot welder on the assembly line to becoming one of the first plus size spokes models to get a contract from a major brand (the Spiegel catalog). Based on her makeover method "If You Can Be That You Can Wear That©," Arroz says the following seven guidelines will help anyone orchestrate their own affordable makeover.
1. Beat the Fat Fight
Do you feel fat, and if so, do you act fat? The way to beat the fat fight doesn't start with your weight. You don't have to say a word to broadcast low self-esteem. Negative body language provides plenty of information. Pay attention to how you move. Do you sit down or do you plop? When you stand up, do you automatically start adjusting your clothing? Observe your actions. Are you always struggling with a slipping bra strap, pulling your pants up, or tugging at your top? If so, stop. These actions insinuate discomfort with yourself and ill-fitting clothing.
2. Stand Up Straight: Posture - The Pep Talk. This is an essential step to looking thinner and taller. Good posture can eliminate and prevent body discomfort and pain. Anyone who is or has been overweight, or is full-busted, has a tendency to slump forward. Spending hours sitting in front of a computer and long commutes are a recipe for poor posture. Becoming aware of your posture is the first step in becoming aware of your body. Lifting the shoulder blades up, back and down, lifts your rib cage and opens up your torso, creating a bit of length, which can insinuate a waist and make you look a bit thinner.
3. Your Closet: The Emotional Land Mine
If a picture speaks a thousand words, then your cluttered closet spells encyclopedias about your emotional well being. Clothing can trigger emotional responses like guilt, which slows you down and holds you back. For example, you may have purchased a dress that was a size too small, fully intending to lose weight, but there it is, taking up valuable space and reminding you of your failure. Impulse purchases, often sale items that don't have partners, like a blouse that doesn't match any of your pants or skirts, hang there like a neon sign that spells "waste of money." Do a quick closet audit. Remove items that need repairing, store seasonal things, and organize the rest of your clothes by item and color; tops, bottoms, jackets, dresses, etc. Start an acquisition list of things you need to complete outfits, including things that require mending. Add categories like outerwear and cocktail attire to guide you towards purchases you really needand help you avoid making more mistakes. You'll feel in control and eventually you'll have more choices when it comes to getting dressed.
4. Build A Strong Foundation: Undercover, What Your Bra Says About You
Back rolls and lines attract the wrong kind of attention. It's said that close to 80 percent of American women are wearing the wrong size and style bra at any given time. The right bra supports and shapes you. Whether you're small or full busted, full figured, have recently gained or lost weight, are nursing a baby, or have had breast surgery, you probably don't have the right wardrobe of bras for your size, shape and lifestyle. Fiber technology and a burgeoning classification of intimate apparel referred to as body shapers can contour and smooth your whole body. You can go down a dress size, look 10 to 20 pounds thinner, and boost or lift your breasts with the right foundations.
5. Wear The Right Size: Size Counts, But Only If Its The Wrong Size.
Just because the clothes fit, doesn't mean they're right for you. What size are you? You may wear three to four different sizes depending on the cut, shape or manufacturer. No matter what size you think you wear, wear the size that fits. Clothes that are too tight look cheap and oversize can often be overkill and actually make you look bigger. Schedule a date with your wardrobe and get rid of clothes you don't feel good in. Less is more if you look and feel more attractive. Alterations can be your best ally in ensuring a better fit. Invest in alterations for your more costly garments and things you wear all the time like jeans.
6. Look Good in the Uniform: How To Dress For Every Situation
If clothes could talk, what would your clothes really say about you? If you look the part, people will assume you can play it. When you watch TV or a movie, you don't question the character, you believe the character, partly because they "look the part."
Looking the part isn't just for Hollywood; it's for all the roles you play in your life. Who is your audience?
Rent the film, "Working Girl" with Melanie Griffith. The film's universal theme is how to climb the ladder and better oneself. Griffith's character borrows her boss's clothes and pretends to be an executive, when she's really a secretary in the steno pool.
She wins over the minds of seasoned businessmen because she looks the part. Whether you are in the corporate environment or a busy entrepreneur, there is a uniform for your profession and lifestyle.
Keep your wardrobe choices simple and invest in a color palate of seasonal neutrals. Look at the optical illusions certain design details create on your body. We've been taught that vertical stripes make us look thinner, but consider these other subtle tricks to visually balance out your body in clothing:

Fuller figures: avoid flap pockets on bust or hips
Wear tops and jackets with epaulets for sloping shoulders
Wear jackets and cardigans open to create strong vertical lines on the torso
Choose necklines that flatter your face shape and neck length. For example turtlenecks and crew necklines don't enhance a fuller face or shorter neck. Scoop and V-neck lines are almost universally flattering.
Keep the size and shape of your accessories in proportion to your body shape and size. A large purse amplifies the size of your hips. Choose jewelry that works with your face shape. For example, if you have a square jaw line, pick earrings that are round to soften and balance your face shape.
Find your perfect hemline – keep the hemline above or below the widest part of your calf
Avoid ankle straps if you have straight legs or wide ankles
Pick a shoe shape like an oval or pointed toe box to elongate your legs and add visual height.
7. Be Headstrong
Nothing spells dated like a hairstyle from the past, retro looks aside. Consultations are free at most hair salons and department store make-up counters. Pull pages from magazines of looks you like, and find out what salon the person whose hair you like the most goes to. Be realistic about how much time you're willing to spend styling your hair. One good investment is to get a hair smoothing treatment. Hair smoothing treatments, like Zerran's RealLisse™, give women control over their hair, cut down on styling time and eliminate frizz. Smoothing treatments often last two to four months and can mean never having a bad hair day again.
Make-Up is another easy way to update your look. If your lipstick bleeds, switch to a sheer gloss or use a long lasting lip product like Cover Girl Outlast. Avoid reds that tend to make your teeth look yellow. Try a multipurpose product like a tinted moisturizer with an SPF like Sheer Activity from IQ Beauty, it goes on quickly, has light reflecting properties and creates a smoother, more youthful appearance.
Unless you're Adele or a model, skip the eyeliner for daytime.
Many women think if they line their upper and lower lids they look better, but they end up looking older.
Fashionable and trendy styles of eyeglasses are all the rage. Look for local deals, check out Costco or use your Automobile Club of America membership for discounts at stores like Lenscrafters. New eyeglasses make all the difference in how you look to the world.
Here are some suggestions for choosing the best style for your face shape:

If you have a wide face, choose oval or cat-eye shapes to break up the width
If you have a full round face, choose geometric styles or narrow cat eye shapes for a more balanced look
Oval face shapes can wear almost every style of frame
Oversized styles look best as sunglasses and on younger people
Retro styles can work for everyone if the frame size is balanced with the size of the face
If you need bi-focals, consider progressive lenses, these eliminate the telltale lines that automatically age you