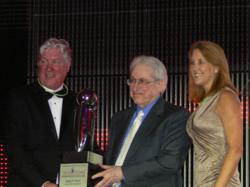 We at Lone Star are proud of this recognition for John's never ending passion and vision to develop best-in-class decision analysis tools like TruNavigator™
Dallas, Texas (PRWEB) August 30, 2012
Dallas, TX (8/30/12) The Metroplex Technology Business Council (MTBC), the largest technology trade organization in Texas, has named Lone Star Chief Technology Officer, John Volpi, its Tech Titans Corporate CTO of the Year. Lone Star is internationally recognized for its business and technology decision support, modeling, and simulation, and as a provider of advisory services addressing highly complex client issues.
Charlie Vogt, chair of the MTBC's Tech Titans steering committee, said, "These pioneers are impacting tomorrow's technology today with their innovation, leadership and advocacy. Their groundbreaking advancements make a difference here and around the globe."
The Tech Titans Corporate CTO Award recognizes the Corporate Technology Officer of a company based in the DFW Metroplex, who has demonstrated exceptional technical leadership, team building, creation and maintenance of a creative environment, and market awareness skills. Ideally, these skills should have fostered the inception and development of new technology that led to novel products, services, intellectual property, or processes that brought significant value to their company.
The MTBC recognized Mr. Volpi for his early work on smart phone base station antennas and offender tracking systems. His work with radio navigation in the days before GPS helped turn that technology into the low-cost system for navigation used today. His collaborative work ethic, desire to keep customers' costs low, and influence on how to use these devices have made him a pioneer in technology.
Steve Roemerman, CEO of Lone Star, said, "We at Lone Star are proud of this recognition for John's never ending passion and vision to develop best-in-class decision analysis tools like TruNavigator™." "I was truly shocked, honored, and humbled by the award. I want to thank my two great partners, as well as the outstanding Lone Star team for their help and support. Without them, it would not have been possible," John Volpi said.
The TruNavigator™ decision analysis engine has been recognized as a premier tool for use by the Department of Defense and in Enterprise applications. In a recent contract award to Lone Star, the Naval Air Systems Command indicated it is the only known company to provide a tool like TruNavigator™, which incorporates sophisticated Bayesian inferencing with Monte Carlo analysis into a highly scalable platform.
For complete information regarding the entire list of Tech Titans winners, visit
http://www.metroplextbc.org/index.php?src=news&refno=160&category=Latest+News&prid=160
About the Tech Titans Awards
The Tech Titans Awards were launched in 2001 by the Metroplex Technology Business Council, North Texas' most comprehensive organization supporting technology. The prestigious annual contest recognizes outstanding technology companies and individuals in the North Texas area who have made contributions during the past year locally, as well as to the technology industry overall. The Tech Titans committee is a group of dedicated volunteers who organize the awards ceremony each year, and judges for the contest are drawn from a variety of disciplines in technology, leaders in the DFW area and past winners. For more information, visit http://www.techtitans.org
About The MTBC
The Metroplex Technology Business Council (MTBC) is the largest technology trade association in Texas, representing a quarter million employees through its 300 member companies. The MTBC strengthens the North Texas' technology community and its reputation by acting as the innovation hub for entrepreneurs, universities and corporations. The MTBC continues to prove that 'Technology lives here' by growing future tech leaders with its talent and workforce development initiative, advocating technology's advancement in governmental arenas, and connecting people and inspiring ideas through its programs and special interest groups. More information about MTBC and its annual Tech Titans awards gala can be found online by visiting http://www.metroplextbc.org.
About Lone Star
Lone Star has built a strong reputation with its clients for delivering insightful analysis, advice and support leading to improved operational performance, monetary savings and risk reduction. Headquartered in Dallas, Texas, Lone Star has gained international recognition for its decision analysis and business modeling, by providing advisory services addressing a client's most complex, mission critical challenges. Lone Star's roots lie in the development, fielding and support of complex technologies and programs for the Department of Defense and commercial enterprises in the telecommunications and technology markets.
Lone Star Aerospace, Inc. ● 4555 Excel Parkway ● Suite 500 ● Addison, TX 75001
Tel: 972-690-9494 Fax: 972-690-9495 http://www.lone-star.com